Patient Services
Qualifying patients may purchase up to 6 ounces of marijuana in a 30 day period.  
Patient and Caregiver approved IDs will be valid for 3 years. Current ID card holders will retain their existing expiration dates, which will be valid for three years upon the next approved renewal.
Patients requiring more than the standard six (6) ounces per month are required to provide one (1) physician certification form, completed and submitted electronically by an MD, DO, or NP, certifying them for an increased amount above the standard six (6) ounces.
Qualifying patients may be certified by an MD, DO, or nurse practitioner that is licensed and in good standing with the state of Missouri.
Proof of Missouri residency will no longer be required for applicants.
New Digital Card Features: new features, including a digital photo, will be available on all digital ID cards. Effective December 8, these features became available to existing card holders by logging into their accounts and downloading a new digital card. Current ID cards printed prior to this date will still be valid at dispensaries.
Currently, applicants can change the digital photo in their application by submitting a patient update application.
Samples: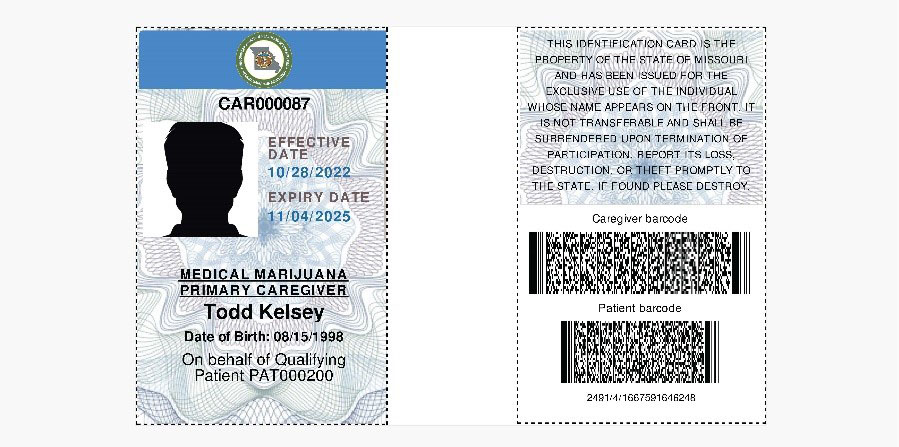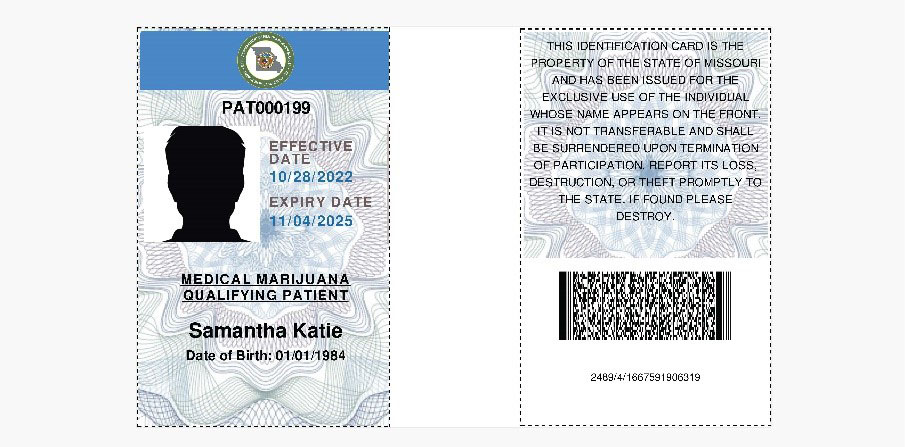 Patient Alert
The Department is alerting approved patient ID card holders that only Department-licensed dispensaries are legally authorized to sell medical marijuana in the state of Missouri. The Department is committed to ensuring safe access for medical marijuana patients through medical marijuana sales at Department-licensed dispensaries and would like to remind patients and caregivers that products purchased outside of those available at dispensaries are not lawfully purchased and have not been tested to ensure they meet the required safety standards. A list of Department licensed dispensaries are available here. This list is updated regularly. Questions about Department-licensed facilities can be sent to Cannabisinfo@health.mo.gov.
Who are We?
The Missouri Division of Cannabis Regulation, Section for Patient and Application Services, serves as the front line of the Program, handling intake of public inquiries, as well as processing all marijuana ID applications. The Section uses their expertise to provide guidance and clarity on application processes, rules, and law.
---
Contact Us
1-866-219-0165 | Monday – Thursday | 9:00 a.m. - 4:00 p.m. |
CannabisInfo@health.mo.gov
---
Additional Resources
Application Video Guides
Each video focuses on a specific topic in the application process to assist patients and caregivers with creating and managing their application, such as how to enter physician and condition information or how to find and correct a rejected application.
Announcements
NEW Caregiver Digital Card Additions: As of October 1, 2021, caregiver digital cards will include the patient license number and the patient barcode, in place of the patient name. These additions promote accuracy in verification of the associated patient during caregiver sales at dispensaries and protects personal identifiable information of patients. Current licensed caregivers are encouraged to print an updated version of their digital card from the registration portal. Click here for guidance on downloading your license. For more information on caregivers, visit the FAQ page.
New! Application Type Flow Chart to help patient, caregiver, and agent ID applicants determine when to submit a new, update, or renewal application.
---
Common Renewal Rejection Reasons

Currently, the Department is seeing rejection trends and would like to remind applicants of requirements that are often missed and that renewal applications will be rejected if the following requirements are not met:

A new Physician Certification Form must be completed by a licensed physician (Medical Doctor or Doctor of Osteopathy) or a Nurse practitioner (NP), who is active and in good standing in the state of Missouri within 30 days of the renewal application submission.
Renewal applications must include a current physician certification form.
All documentation is required:

A color digital photo of the applicant, taken within 3 months. This must not be a photo of the applicant's driver's license or passport.
Government Issued Photo ID
Electronic Physician Certification Form

Cultivation details must include location, security and access to the cultivation space.
If a cultivation space is being shared, the name and Patient ID card number (PAT#) of the additional patient who will be sharing the space must be listed. If the person the applicant intends to share with is applying for cultivation or for a caregiver license, applicants need to type "applying for cultivation." In the PAT # space.
---
Application Processing Timelines, Notifications, Application Status
The department has 30 days to process patient applications. Applications are processed in the order they are received. If an application is incomplete, the department will return the application, notifying the applicant of all needed corrections, and the applicant will then have 10 days from the date of notification to make the necessary corrections and resubmit the application. If the applicant does not submit changes within 10 days, or the required changes are not included in the resubmission, the application will be denied.

Applicants will receive email notifications when their application is submitted, rejected, approved, or denied. Note: Once an application is submitted, applicants will receive a confirmation email with an application reference code or application reference code. This means that the application has been fully submitted and is in queue for processing. If an application is not fully submitted, the application will show as "open" status in the application portal, which means that it has not been submitted.
---
Renewals

Current ID card holders will be sent notices 60, 45, 30 and 15 days prior to the ID card expiration date. These notices will be sent from the registry system to the email address used when registering for the portal. The window for submitting a patient or caregiver renewal is 60 days prior to, and no less than 30 days before, the expiration date. The system will not prohibit the submission of a renewal after the 30 day window, however the department has 30 days from submission to process an application, therefore we cannot guarantee a renewal that is received in this time frame will be processed prior to the ID Card expiration date. Please wait 24 hours following the receipt of a 60 day ID card renewal notification before submitting the renewal application in the registration system.
---
Stay up to date with the Missouri Medical Marijuana Regulation Program through the Patient Services newsletter. Sign-up here.
---
DHSS would like to remind the public that any physician certification they receive for medical marijuana must be no more than thirty days old at the time an individual applies for a patient identification card.
---
Each qualifying patient may only have one cultivation license, either held by the qualifying patient or held by their designated primary caregiver. Only a parent or guardian who holds a primary caregiver identification card may obtain a cultivation license for a qualifying patient under the age of 18.