Bureau of Narcotics and Dangerous Drugs
BNDD Resuming Inspection Visits
The bureau is resuming inspection visits to registrants. The bureau is mindful of the risks to practitioners and patients and will be taking precautions on planning and performing tasks at selected locations. Bureau staff have been equipped with PPE such as hand sanitizer, gloves, and masks. Investigators may provide a list of records to be seen and the records may be brought to them in one place, in lieu of the investigator roaming around the practice setting. Inspections will be performed on a tablet and there will not be a requirement for the registrant to sign a form. Copies of the inspection materials will be scanned and emailed to the registrants.
Waivers During Covid-19 Emergency
ATTENTION
Staff within the Bureau of Narcotics and Dangerous Drugs may begin to process applications for registration remotely.
In order to expedite your application we ask that, going forward, all applications be submitted online with our click-to-pay feature.
This will avoid delays in the application process due to handling of physical mail. The bureau will be able to process online applications remotely without an interruption in service. If you need to send an attachment along with your application, email it to BNDD@health.mo.gov.
Important Information
The BNDD Online Application does not process immediately. The application has to be received, reviewed and processed by BNDD staff before it can be issued and the certificate printed.
The bureau is currently experiencing a high volume of phone calls, emails and applications. The processing times for the BNDD applications are longer than normal. Thank you for your patience.
The current processing time for registrations is 12 business days.
NOTICE - Registration processing times & certificates
Applying online allows for a faster processing and issuance. Applicants may check the bureau's website periodically and click on the real-time link below to verify if a registration has been issued. The BNDD no longer mails certificates and they may be printed from this link below.


Only the actual registrant may apply for and make changes to a registration.
Applications and changes may not be delegated to any other person.
---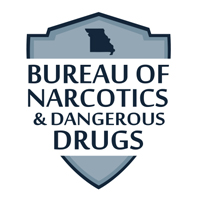 Activities and programs of the Department of Health and Senior Services ensure the safe and legal handling and distribution of narcotics and dangerous drugs used in the manufacture of controlled substances in Missouri. The department also works with law enforcement and other agencies to minimize the abuse of controlled substances in the state.
Services include:
Maintaining a registry, as required by state law, of the individuals and firms who prescribe, dispense or otherwise conduct activities which involve controlled substances.
Encouraging proper management of controlled substances through routine inspections and audits of the records which must be kept by firms and individuals who lawfully manufacture, distribute, or dispense controlled substances.
Investigating suspected irregularities or mismanagement involving controlled substances. Such investigations originate with complaints from the general public, other government agencies or may develop from routine inspections and audits conducted by Department representatives.
Acting to correct or prevent unlawful practices, when detected, through education, or, if necessary, administrative action against the registration of the firms or individuals involved.
Updating the Missouri Controlled Substances list each year and filing changes in the list with the Missouri Secretary of State for publication in the Missouri Register and the Code of State Regulations.