Abuse, Neglect, and Exploitation of the Elderly and Disabled
Online Reporting
NEW: Online Reporting is now available for all concerned individuals and should only be used to report non-emergencies.
If you are a mandated reporter, DHSS encourages you to make your adult abuse and neglect reports online 24/7 to help keep our hotline open to the public. Thank you for your partnership!
Use Google Chrome or Microsoft Edge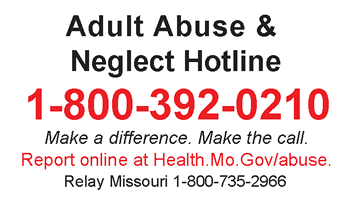 ---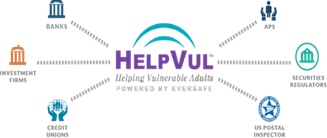 HelpVul - Unified reporting portal for financial institutions to submit reports of financial abuse to the state APS unit.
"Experts believe that for every case of adult abuse or neglect reported, as many as 23 cases go unreported."

STOP Adult Abuse: It's a Crime. To learn more about this crime in Missouri, see our department's latest report.
Cold Weather
If you know of a senior or disabled adult who is in need of assistance due to cold weather, Make a Difference. Make the Call. 1-800-392-0210. Find a warming center near you.
The Missouri Department of Health and Senior Services (DHSS) investigates abuse, neglect, and exploitation of vulnerable individuals 60 and older and people with disabilities between 18 and 59. These individuals may live in the community or in long-term care facilities. Either way, they are unable to protect their own interests or adequately perform or obtain services necessary to meet their essential human needs (192.2400, RSMo).
Missouri's Adult Abuse and Neglect Hotline responds to reports of abuse, bullying, neglect, and financial exploitation. If you suspect someone is being abused, bullied, neglected or exploited, call the hotline at 800-392-0210. The hotline operates 365 days per year from 7 a.m. to 8 p.m. People who are deaf or hard of hearing may utilize Relay Missouri by calling 1-800-735-2466. Due to the possible need for mandated reporters to report a concern to the Central Registry Unit (CRU) during the hours of 8:00 p.m. to 7:00 a.m. (when the hotline is not in operation), Online Reporting is available for use.
Financial Services Professionals
If you have a concern that an older adult or an adult with disabilities is at risk of or is currently being exploited, and your bank/firm/credit union is registered as a HelpVul user, you can report the case here:
http://www.helpvul.com/MO.

To learn whether your bank/firm/credit union is already registered, or for information about registering for the HelpVul portal, call 888-280-6540 (option 1) or email info@HelpVul.com.
What is Abuse?
Abuse happens to people of all ethnicities and income levels and can be physical, sexual or emotional in nature. For information on abuse statistics in Missouri, see Stop Adult Abuse: It's a Crime.
FY16 FY11 FY10 FY09 FY08
Who can Report Abuse?
Anyone who suspects someone is being abused, neglected, or exploited can make a report. Certain professionals, however, are mandated by law to report. Click here to find a complete list of mandated reporting laws and mandated reporters.
What Information Do I Have to Report?
See Stop Adult Abuse: It's a Crime, page 18, for information on what to report.
What Happens After I Make a Report?
Reports of Individuals Residing in the Community
If the alleged victim lives in his or her own home or community, an investigator will help the alleged victim determine the services or interventions needed to stop or alleviate the abuse. The services may include:
community supportive services, such as personal care, respite, or chore services;
home-delivered nutrition services;
financial or legal assistance and protections, such as representative payee, direct deposit, trusts, protective services, civil suit or criminal charges;
counseling for the victim;
referral to other community resources, and;
when needed, guardianship proceedings or nursing home placement.
If you would like to follow-up on a report you made to the Adult Abuse and Neglect Hotline regarding an individual residing in the community (including his or her own home), please contact the appropriate Adult Protective Services (APS) office in the county where the reported adult resides.
Long-Term Care Facility Complaints
If the alleged victim lives in a long-term care facility, the department's Division of Regulation and Licensure staff conducts an investigation. Complaint investigations are handled in accordance with state statute. Long-term care reports or complaints are generally initiated within 24 hours. For more information, contact us or email info@health.mo.gov.
What about my rights?
A competent older person may refuse all services and interventions. No decisions are made about a competent adult without her or her involvement and consent.
A facility resident has the right to:
be free from mental and physical abuse;
be informed of their medical condition;
select their own physician;
participate in planning their care;
refuse treatment;
voice grievances;
be treated with respect and dignity; and
have treatments provided in privacy.
For adults participating in the Protective Services Program, consideration is given to the following inherent rights:
self-determination
protection
confidentiality
participate in care planning
receive assistance
refuse services
refuse medical treatment
All programs stress the competent adult's right to make decisions regarding care.
Adult Protective Services
For community-dwelling adults and persons with disabilities, the Department of Health and Senior Services provides Adult Protective Services (APS). Protective services are provided on behalf of eligible adults who are unable to:
manage their own affairs;
carry out the activities of daily living; or,
protect themselves from abuse, neglect, or exploitation which may result in harm or a hazard to themselves or others.
The purpose of Adult Protective Services is to:
promote independence;
maximize client choice and provide for meaningful client input for preferences;
keep the adult at home by providing quality alternatives to institutional care; and,
empower the older adult to attain or maintain optimal self-determination.
Related Links