September - Senior Center Month
Let's Celebrate Senior Centers!
National Senior Center Month-September 2022
Strengthening Community Connections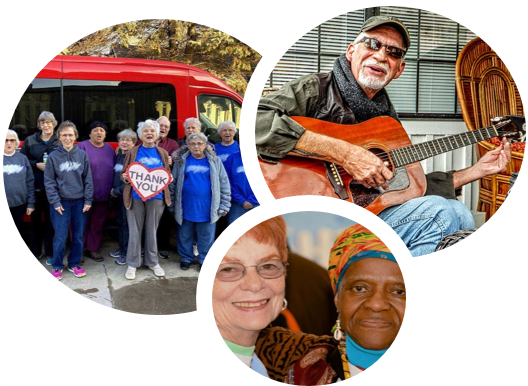 Nearly 11,000 senior centers nationwide are the community focal points used by almost one million adults daily. In addition to nutrition programs, senior centers offer information and assistance, lifestyle and wellness classes, transportation, benefits counseling, and so much more. Senior center participants report higher levels of health, social interaction and life satisfaction compared to their peers who do not engage with their local senior center.
There are 203 local senior centers throughout Missouri connecting older adults to vital community services that help them stay healthy and independent.
Doing great things.
In Fiscal Year 2021:
62,621 individuals received home delivered meals
6,710,463 meals were delivered or picked up from Senior Centers were provided to home bound individuals and those self-isolating due to the pandemic
30,189 individuals received congregate meals in Senior Centers and other congregate settings
512,966 meals were provided in congregate settings
Service. Information. Advocacy.
The Missouri Association of Area Agencies on Aging (ma4) was founded in 1973 to serve as a statewide advocate and resource for older Missourians. MA4 is comprised of the state's 10 Area Agencies on Aging (AAA), which were created under the 1973 amendments to the Older American's Act of 1965. For more than 35 years, these local agencies have been providing vital services, programs and information to millions of Missourians and their caregivers, including legal services, home-delivered meals, disease prevention and health promotion, transportation, public benefits counseling, senior centers and in-home services. The 10 Area Agencies on Aging (AAA) provide a coordinated network of care in implementing statewide initiatives, which are designed to help older Missourians maintain their independence and give them a voice in articulating their concerns and changing needs. 
Contact your local Area Agency on Aging if you are interested in learning more about how Senior Centers are helping older adults grow, learn, give, and connect with their communities.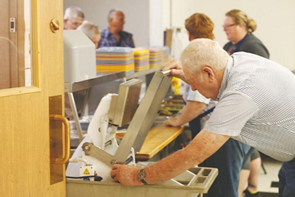 Aging Ahead (St. Louis area)
Aging Best (Central)
Aging Matters (Southeast)
Care Connection (Warrensburg, Sedalia and west)
MARC (Kansas City area)
Young at Heart Resources (Northwest)
Region X (Southwest-Joplin)
SeniorAge (Southwest-Springfield)
St. Louis (St. Louis City)
Resources