Caregivers in Missouri
Missouri's Caregiver of the Year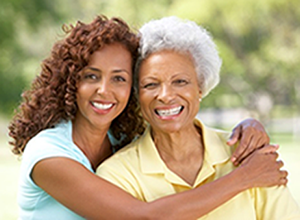 Do you know someone who puts their life on hold to care for an ill family member or friend? If so, the Department of Health and Senior Services invites you to nominate that person for Caregiver of the Year. * Year of the Caregiver Flyer*
The department will feature a story and photo of an unpaid caregiver each month. By December, an overall Caregiver of the Year will be selected. Click here for the nomination form and the photo release form. Send both forms, along with a digital photo of the caregiver, to Becca.Coffelt@health.mo.gov.
Patsy Ponder Dalton
Caregiver of the Month - February
"in Sickness and in Health"
Read more about the Caregiver of the Month
A Special Thank You from Jessica Bax, Director, Division of Senior and Disability Services
Beginning in 2017, the Department of Health and Senior Services began recognizing unpaid caregivers throughout Missouri. We wanted to give a face to these unsung heroes. We also wanted to provide caregivers with information on how to keep their loved ones safe at home and give them tips on how to manage their own stress. Since then, we have received numerous heart warming nominations making it very difficult to choose just one winner each month. I want to thank everyone who submitted nominations over the past two years. I also want to encourage everyone to continue to submit nominations as we continue to honor caregivers in 2019!
Resources