Family Care Safety Registry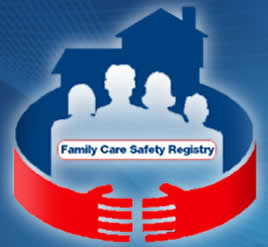 Missouri's Family Care Safety Registry (FCSR) was established by law to promote family and community safety. The registry helps to protect children, seniors, and people with disabilities by providing background information. Families and employers can call the registry's toll-free line to request background information on registered child care, elder care, and personal care workers or to request licensure status information on licensed child care and elder care providers. This service is intended to provide information to help families and employers make informed decisions when hiring employees to work with children, the elderly, and people with disabilities.
ATTENTION:
To enhance security in the Background Screening Employment and Eligibility System (BSEES), we will be implementing new CAPTCHA systems on pages that require entry of a Social Security Number. When entering an online registration or a Good Cause Waiver (GCW) application status request, you will be required to check a box confirming you are not a robot, and may be required to follow up with an image selection test. If you enter more than one online registration, for example, after confirming you are not a robot, you may expect to have to select all images containing a certain criteria before you can proceed. Please note approved users can avoid the CAPTCHA on a GCW application status request when logged in.
---
The Worker Registration form has been revised to note a change in the state agency that maintains child care licensure records, and to clarify fee information for non-Missouri foster parent registrations. Also added were questions now required by state law to determine if the individual completing the form wishes to receive information on military-related services. You can access the new version of the Worker Registration form from FCSR's Forms webpage.
---
Please be patient with possible delays in communication with the Family Care Safety Registry (FCSR). Since the Department of Social Services dissolved their Background Screening Investigation Unit responsible for checks of the Child Abuse and Neglect Central Registry, we have been handling additional calls and emails from organizations about receiving child abuse and neglect information through an FCSR screening. As a reminder, the FCSR conducts screenings for the purpose of employing caregivers in child care, long term care, mental health care, or personal care settings. Learn more about the FCSR and the databases checked during an FCSR screening from our webpage at https://health.mo.gov/safety/fcsr/about.php.