Family Care Safety Registry
ATTENTION:
As of Monday, October 2, the Family Care Safety Registry is processing:
Online registrations submitted on September 28.
Online background screenings requiring review submitted on September 27.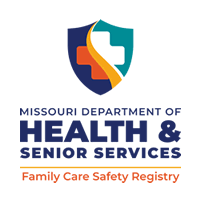 Missouri's Family Care Safety Registry (FCSR) was established by law to promote family and community safety. The registry helps to protect children, seniors, and people with disabilities by providing background information. Families and employers can call the registry's toll-free line to request background information on registered child care, elder care, and personal care workers or to request licensure status information on licensed child care and elder care providers. This service is intended to provide information to help families and employers make informed decisions when hiring employees to work with children, the elderly, and people with disabilities.