Nursing Homes Inspections
Find out how any licensed Missouri long-term care facility did on its last inspection.
How Many Nursing Homes and Other Care facilities are there?
Missouri's nursing homes and other long term care facilities provide different levels of care depending upon a person's needs. Generally, people who live in skilled nursing homes need a lot of care while those in residential care facilities do not. There are approximately 1,161 long-term care facilities with more than 83,900 beds licensed and inspected by the Section. Of these facilities, there are 511 skilled nursing facilities, 21 intermediate care facilities, 304 residential care facilities, and 327 assisted living facilities. The Section also inspects 8 hospital-based long-term care units. Approximately 516 facilities participate in the Federal Medicaid and/or Medicare programs.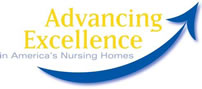 How are Long-Term Care Facilities Inspected?
The Department of Health and Senior Services (DHSS) inspects state licensed residential care and assisted living facilities. The Centers for Medicare & Medicaid Services contracts with the department to conduct federal certification surveys in federally licensed facilities. In skilled nursing facilities, the federal certification survey and state licensed inspections usually occur at the same time. DHSS also investigates complaints about long-term care facilities and resident abuse or neglect.
State law requires that DHSS inspect each long-term care facility twice in a fiscal year. The fiscal year is July 1 – June 30. A federal survey is also required every nine to 15 months for Medicare and/or Medicaid-certified facilities.
The Inspection Process
Before an inspection, the DHSS survey team reviews the facility's previous compliance history, to include complaint investigations. The team conducts an unannounced visit to evaluate resident quality of care and quality of life, environmental services, dietary services, and fire safety. The inspection process involves observations; interviews with residents, residents' family members and facility staff; and record review of documentation.
Inspectors may cite the facility with one or more deficiencies if the facility it is not in compliance with federal and/or state regulations. Every federal deficiency cited is assigned a scope and severity. Scope indicates how many residents are affected. Severity indicates the level of harm. State deficiencies are classified as a Class I, II, or III, with I being the most severe and III being the least severe.
DHSS sends a written Statement of Deficiencies (SOD) to non-compliant facilities describing each violation. Facility administrators are required to prepare a written Plan of Correction (POC) detailing how and when they intend to correct the cited deficiencies. DHSS must approve the POC. DHSS may conduct up to two facility revisits to ensure the required corrections are implemented appropriately and on time. Additional revisits are at the state's discretion. If the facility does not correct deficiencies upon a revisit, the state and CMS may impose penalties, to include denial of payment for new admissions and/or civil money penalties.