Bureau of Vital Records
The Bureau of Vital Records, within the Missouri Department of Health and Senior Services, provides services including: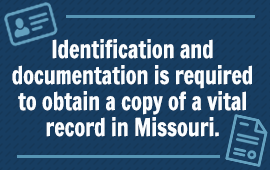 More About Vital Records:
---
---
While vital record keeping began in 1910, some delayed certificates may be available before 1910. However, there is no guarantee of a record's existence either before or after 1910. You may also consider visiting the Secretary of State's Missouri Digital Heritage website.