World Elder Abuse Awareness Day (WEAAD)

Governor's Proclamation
2023 World Elder Abuse Awareness Day Proclamation
What is World Elder Abuse Awareness Day (WEAAD)?
June 15
World Elder Abuse Awareness Day (WEAAD) is commemorated every June 15th to provide an opportunity for communities to promote a better understanding of abuse and neglect of older adults.  WEAAD reminds us that elder abuse has implications for all of us.  It is a call to action for individuals, organizations, and communities to learn how to identify, address, and prevent elder abuse so we can all do our part to support everyone as they age. 
This year, the theme for WEAAD is Building Strong Support for Elders.  Take action today to prevent and address elder abuse and neglect by:
Engaging Older People.
Empower Communities.
Speak Out!
Involve Youth.
Make a difference. Make the call.
Missouri's Adult Abuse and Neglect Hotline responds to reports of abuse, bullying, neglect, and financial exploitation. If you suspect someone is being abused, bullied, neglected or exploited, call the hotline at 800-392-0210. The hotline operates 365 days per year from 7 a.m. to 8 p.m. People who are deaf or hard of hearing may utilize Relay Missouri by calling 1-800-735-2466. You can report online at health.mo.gov/abuse.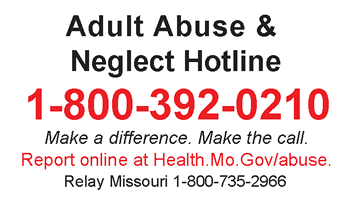 Upcoming Events
DHSS is excited to raise awareness with our partners in the aging community!
WEAAD Webinars
Television Coverage
Coming Soon
How can I participate?
Resources
Materials - Order NOW!
WEAAD Wall Posters 11" x 17" (3 designs available)
WEAAD Window Clings (5" x 5" – to be applied inside of window)
WEAAD Yard Signs (18" x 24")
Adult Protective Services (APS) Informational Flyers NEW
* These materials can be downloaded and printed or can be ordered by contacting Kathy.Craig@health.mo.gov.