Microbusiness Information
MICROBUSINESS LOTTERY DRAWING RESULTS
The application period for the first round of microbusinesses closed August 10, 2023. The Department received 1,625 applications; 577 wholesale applications and 1,048 dispensary applications. The lottery drawing for the first round of microbusinesses was conducted Monday, August 28, 2023. Results of the random drawing have been posted below. Selection of an application by the lottery does not guarantee a license will be issued.
---
Announcements
Notice: The Department will begin rejecting microbusiness applications for correction and will reach out to the designated contact listed in the application with correction guidance. Microbusiness applicants will receive three (3) business days to make necessary corrections to their rejected applications. Helpful tools and resources regarding rejected applications can be found on the tutorial page, here.
The microbusiness website will be updated frequently, please check for additional information as it becomes available.
Our Role
The Office of Business Opportunity is responsible for development and implementation of programs to inform the public of the opportunities available to those individuals who meet the eligibility criteria set forth in Article XIV Section 2 of the Missouri Constitution.
The Department will be accepting microbusiness applications July 27 until August 10, 2023 for the first round of microbusiness licenses. Click here for additional important dates.
What is a Marijuana Microbusiness?
A microbusiness is a marijuana facility license issued only to eligible individuals and entities. These licenses are essentially small businesses that are designed to allow marginalized or under-represented individuals to participate in the legal marijuana market. The Missouri Constitution provides that individuals who each meet at least one of the eligibility criteria set forth in Article XIV, Section 2, may apply for a marijuana microbusiness facility license. More information about eligibility criteria can be found here.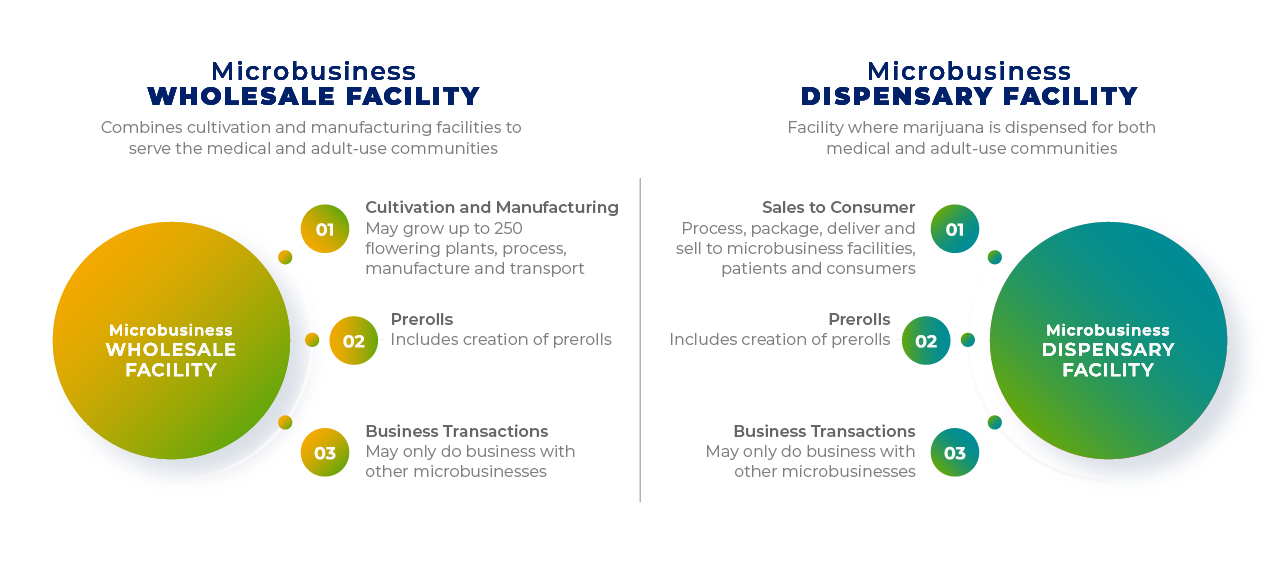 Microbusiness Applicants Generally:
Majority owners must meet at least one eligibility criteria from Article XIV, Section 2.
An owner of a microbusiness facility may not also be an owner of another licensed marijuana facility or medical facility.
An entity/individual may only apply for and obtain one microbusiness license.
A marijuana facility shall not have as an owner any individual with a disqualifying felony offense.
Licenses will be awarded by lottery drawing. Click here for more information on the lottery process.
In October of 2023, the Department will issue six microbusiness licenses in each of the eight Missouri congressional districts, for a total of 48 microbusiness licenses. Of the six in each district, two will be microbusiness dispensaries, and four will be wholesale facilities. The Department will issue an additional 48 in 2024, and another 48 in 2025. Time periods for those application windows will be announced on the Department website.
Important Dates