Physician/Nurse Practitioner Registration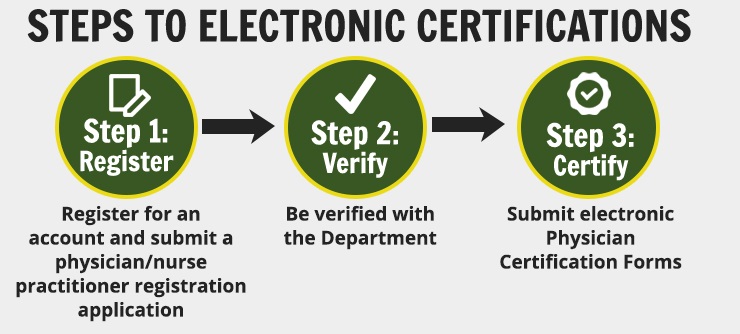 Register for a "Patient/Caregiver/Physician" account type and log into the account.
Submit a "Physician/Nurse Practitioner Registration" application type.
This requires a document upload of your medical license.
Become verified with the department as a Missouri licensed physician (MD, DO)/nurse practitioner (NP) who is active and in good standing pursuant to Missouri law.
As part of the verification process, the department will notify you via email requesting verbal verification of your intent to participate as a certifying physician/Nurse Practitioner.
Certifying Qualified Patients
Submit Electronic Physician Certification Forms for certified patients through the approved registry account using the "Electronic Certification" application type.
Before you certify, review the DHSS Guidance for Certification Appointments.
Once an electronic physician certification form is submitted on behalf of the qualifying patient, the patient must then use their own registry account to submit a new or renewal patient application.

Physician Certification Forms must be submitted with the patient application within 30 days of the certifying physician/nurse practitioner's signature date on the submitted electronic form.
Step by Step Instructions for Creating a Physician/Nurse Practitioner Account and Application.
Physician/Nurse Practitioner Responsibility
Certifying Physician or Nurse Practitioner Qualifications: All physicians or nurse practitioners who intend to certify patients for medical use of marijuana must be licensed to practice in their respective fields and must be in good standing.
A certifying physician must have a current license to practice medicine or osteopathy. Practice of medicine or osteopathy means practice by persons who hold a physician and surgeon license pursuant to Chapter 334, RSMo, including those who are admitted to practice in Missouri by reciprocity pursuant to §334.043, RSMo.
A nurse practitioner must have a current Missouri or compact RN license, maintain national certification in a population focus, and be recognized by the Missouri State Board of Nursing as an advanced practice registered nurse.
Physicians/Nurse Practitioners are responsible for creating their own accounts for the purpose of submitting electronic physician certification forms on behalf of qualifying patients in a manner that is compliant with provisions in 19 CSR 30-95.110. Physicians/Nurse Practitioners found in violation of these requirements may be subject to sanctions or penalties under applicable laws and regulations.
Unauthorized Requests for Physician/Nurse Practitioner Accounts
Any parties found to establish an unauthorized physician/nurse practitioner account will be subject to sanctions or penalties under applicable laws and regulations.