Breastfeeding and WIC
Promoting, supporting, and protecting breastfeeding is a crucial part of the Missouri WIC program. All WIC local agencies in Missouri have staff trained to provide basic breastfeeding education and support and provide an environment supportive of breastfeeding. Agencies can choose to participate in the Breastfeeding Peer Counseling Program to provide an extra measure of support, and can be designated as Breastfeeding Friendly WIC Clinics once they meet specific criteria.
Breastfeeding Friendly WIC Clinics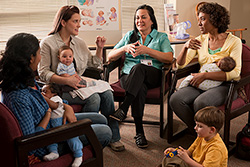 The Breastfeeding Friendly WIC Clinic is a Missouri designation that recognizes WIC local agencies that provide exemplary breastfeeding support. The purpose of this statewide effort is to encourage and recognize local agencies that implement evidence-based breastfeeding strategies to offer an optimal level of breastfeeding support to participants. Local agencies must implement the strategies prior to being awarded the "Breastfeeding Friendly WIC Clinic" designation. The success of these model agencies is being observed through increased breastfeeding rates. The WIC Breastfeeding Task Force worked with the state agency to develop the specific criteria that must be met to be recognized as a Breastfeeding Friendly WIC Clinic.
Click here to view a map showing Breastfeeding Friendly WIC Clinics in Missouri.
How to Apply
WIC local agencies wishing to be recognized must fully implement the Breastfeeding Friendly WIC Clinic program criteria prior to applying. The application period opens each spring for the following federal fiscal year. For questions, contact Lisa Schlientz at Lisa.Schlientz@health.mo.gov or by phone at 573-751-6468.