eWIC - Families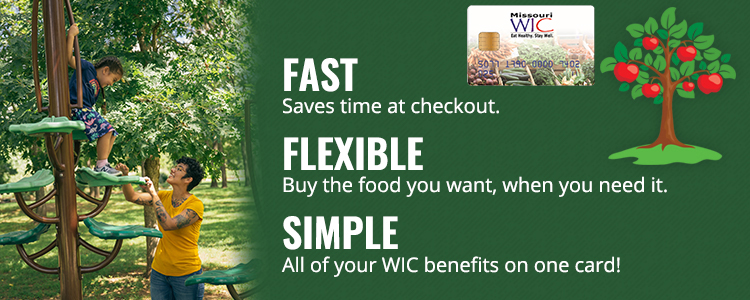 Frequently Asked Questions
What is an eWIC card?
An eWIC card holds WIC food benefits that the participant can use at the grocery store.
Will SNAP benefits and WIC benefits be on the same card?
No. The eWIC card for the WIC program will be separate from the EBT card for the SNAP program.
Will participants still be able to use their checks that were already printed?
Yes. Participants will still be able to use their checks until they run out and should have no reason to switch over to an eWIC card early unless they have a food package change or the checks are stolen.
Will the eWIC card be able to have three (3) months' worth of benefits loaded onto it?
Yes. The eWIC card will have the ability to hold three (3) months' worth of benefits. Unused benefits will expire in the same way as they do with the current check system. Participants will still have to return to the WIC clinic to receive additional benefits and nutrition education.
Will there be one (1) card for all household members on WIC?
Yes. All family members on WIC in the same household will have their benefits on one (1) card. Foster children will receive their own cards. You will use this card at every appointment to add the next set of benefits. The card is not to be used and then thrown away.
Who can change the PIN?
Only the authorized representative can change the PIN for an eWIC card.
Do participants need to show identification with their eWIC card at the grocery store?
No. Proper identification is not required with the eWIC card at the grocery store. The PIN will be the participant's identification for using the card.
How will the eWIC card work at the store?
The process will be very similar to using a debit or credit card. Participants will shop for their WIC approved items as usual. At checkout, the eWIC card will be inserted into the card reader where WIC approved items will be deducted from the balance of the benefit package on the card. Unused benefits will remain on the card and will expire the last day of the month at midnight.
What happens if a participant loses their card?
If a participant loses their eWIC card, it will be placed on the Hot Card List and after a 5-day waiting period the authorized representative will be able to come into the local agency with appropriate proof of identity to get a new one.
Will retailers accept checks and eWIC cards?
Yes. With the transition to eWIC, retailers will accept both eWIC cards and checks.
Can eWIC cards be used at self-checkout registers?
No. Technology is still under development by retailers.
Can participants shop in other states with their Missouri eWIC card?
No. Missouri eWIC cards are ONLY accepted at Missouri authorized WIC retailers.