National Employ Older Workers Week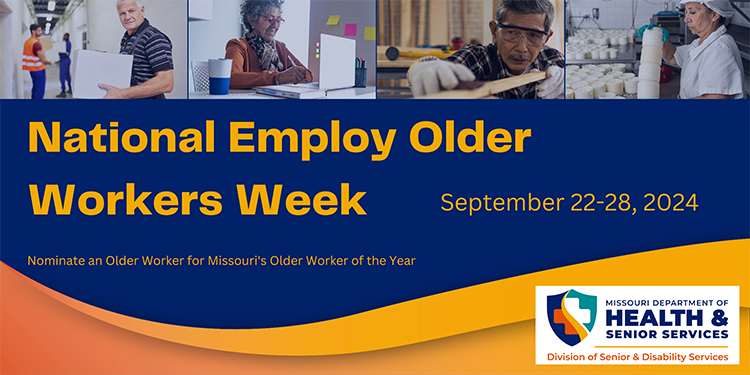 By 2024, the U.S. Bureau of Labor Statistics projects that the United States labor force will comprise 41 million people 55 and older, making up 25% of the total national workforce. Missouri's workforce is in line with that projection. The most recent demographic statistics released by Workforce Innovation and Opportunity Act (WIOA) indicate that Missouri has 655,329 workers aged 55 and older, which comprise 23.4% of Missouri's workforce.
Annually, the United States Department of Labor recognizes older workers during the last full week of September. Missouri is taking part in National Employ Older Workers Week by awarding our own Older Workers of the Year!
On Wednesday, September 27, 2023, Governor Mike Parson presented awards honoring the Senior Community Service Employment Program (SCSEP) Host Agency of the Year and Participant of the Year, as well as Missouri's Outstanding Older Worker of the Year.
SCSEP Host Agency of the Year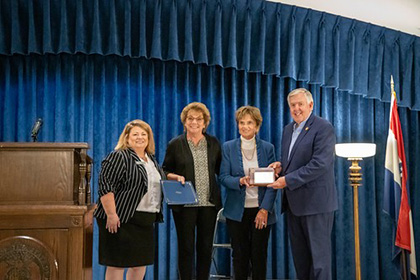 Peace Pantry first joined the SCSEP program in 2017. The organization is a hub of resources in the Jefferson County community, providing a food pantry and thrift store, but also assists community members with accessing resources for affordable internet, rent assistance, food stamps, affordable car repair, and more. Supervisors at the pantry work closely with SCCEP participants to assist them in developing skills that will enable them to secure unsubsidized employment. Peace Pantry respects the values and goals of the SCSEP program and has hired two of the SCSEP participants, providing them with unsubsidized employment. Peace Pantry was nominated by Constance McCord.
SCSEP Participant of the Year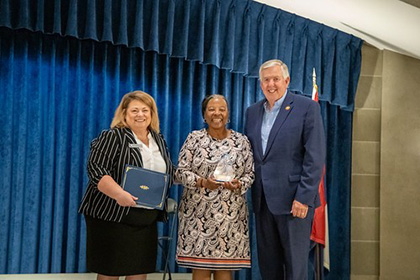 Renee Davidson entered the SCSEP program in 2018 and is receiving on-the-job training with the St. Louis Area Agency on Aging. Nominator Jamie Saunders said, "Renee goes the extra mile every day but is particularly helpful when we are in crisis mode." Davidson has received training to answer the phones for the area agency on aging and answers an average of 300 of the agency's 1,000 calls each month. She shows great attention to detail and follows up to make sure that clients receive the assistance they need. St. Louis Area Agency on Aging values the skills and work ethic that Davidson brings to the position.
Older Worker of the Year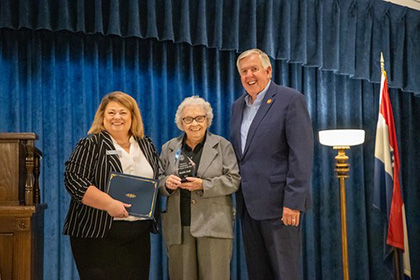 Ardella Lack was named Missouri's Outstanding Older Worker of the Year. Working at the Dade County Health Department, Lack, 86, still works 2 ½ days a week in the same program she has worked in for more than 35 years. Administrator Pamela Cramer nominated Lack, stating, "She is the best. During COVID, she was by my side, working 5 to 6 days a week or whatever was needed. She always comes up with new ideas to better serve the community and is involved in helping the community any way she can."
Press Release
Demographic Data. WIOA County Demographics Missouri Economic Research and Information Center (MERIC). https://meric.mo.gov/data
Toossi, M., & Elka, T. (2017, May). Older Workers: Labor Force Trends and Career Options. U.S. Bureau of Labor Statistics. https://www.bls.gov/careeroutlook/2017/article/older-workers.htm