Newsletters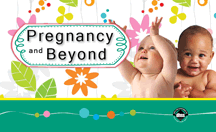 Congratulations on the arrival of your baby! Your new family member is a special, one-of-a-kind little person, who is probably making big changes in your life. You may feel emotions ranging from extreme joy to overwhelming responsibility. But, don't feel alone, because most parents share these same feelings. The purpose of the Pregnancy and Beyond Newsletter is to give you important information that will help you and your baby grow together as you develop your new and special relationship. Each newsletter subject is designed to cover topics of interest to most parents as their children grow and develop through various stages of infancy and early childhood. You may order paper copies through the Missouri Department of Health and Senior Services warehouse web pages, by visiting the TEL-LINK website, or by calling 800-TEL-LINK (800-835-5465) to order these materials.
You can also find all of the information from the newsletters within the links below.
In the newsletter topics, your baby is sometimes referred to as a boy (he/him) and sometimes as a girl (she/her). Your family doctor, pediatrician, nurse practitioner, or clinic is referred to as your health care provider.