From 8 to 12 Months - Time Together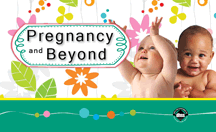 These things will help your baby learn, develop, and grow closer to you:
Read often to baby. Show him pictures. He may grab the book at first and will probably be more interested in feeling it, mouthing it, and turning pages. With time, baby will develop more patience to watch and listen as you read.
Keep hugging and loving baby.
Have fun with your baby! Play games like Peek-a-Boo, This Little Piggy and Pat-a-Cake. You will both enjoy play time.
Sing to your baby!