From 12 to 18 Months - Safety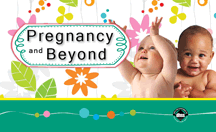 Did you know that every month hundreds of children under 4 years of age die in the United States because of injuries? Most of these injuries can be prevented. Often, injuries happen because parents are not aware of what their babies can do. Between 12 and 18 months of age your baby will gain skills in walking and will begin to run, climb, jump and explore everything. This stage begins the most accident-prone time of her life. It is your responsibility to know that your baby's next move might result in injury if she is not protected.
Poisoning
Your baby will continue to explore her world by putting everything in her mouth, even if it doesn't taste good. She opens doors and drawers and loves to take things apart. She can open bottles easily now, so you must use safety caps on all medicines and keep safety caps securely fastened. Medicines should be kept in locked cabinets.
Your baby is now able to get into and on top of everything. She doesn't understand danger or remember "No" when she is exploring. Be sure to keep all household products and medicines up, up and away, completely out of her sight and reach.
If she does put something poisonous into her mouth, call the Poison Control phone number immediately (1-800-366-8888).
Falls
Even though your baby is improving her walking skills, she will still fall. She is now beginning to climb and jump and run as well. Furniture that a child might try to climb should not be placed in front of windows.
Lock the doors to any dangerous area. Use gates on stairways and window guards above the first floor. Remove sharp edged furniture from the room she is in. Keep cords away from baby and crib.
Burns
The kitchen can be a dangerous place for your baby. Hot liquids, grease, and hot foods spilled on her can cause serious burns. While your baby is learning to walk, she will grab anything to steady herself, including things like hot oven doors or wall heaters. Keep her away from these dangers, secure and supervised while you are cooking.
Test bath water temperature before putting baby in.
If your baby does get burned, put cold water on the burned area immediately. Then cover the burn loosely with a bandage or clean cloth. Call your baby's health care provider or local emergency facility for all burns.
Drowning
At this age your baby loves to play in water. Never leave her alone in or near a bathtub, pail of water, wading or swimming pool or any other water, even for a moment. If you must leave, take baby with you. She can drown in the most shallow water.