From 4 to 8 Months - Is My Baby OK?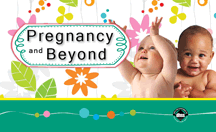 Every parent wants a normal, healthy baby. Unfortunately, some babies have significant health or developmental problems that are not obvious at birth but may be observed as the baby becomes older.
Concerns may be based on observations the parents have made of their baby over time or on comparisons with their older children at this same age. Identifying growth or developmental delays early offers your baby the best possible opportunity for good health.
If your baby has any of the following, see her health care provider:
Persistent back arching, fisting of hands, and uncontrolled crossing or "scissoring" of legs.
Slow head growth or slow weight gain.
Delays of more than two months in achieving normal developmental milestones such as rolling, sitting, crawling, and talking.
Lack of response to voices or visual stimulation.
Premature birth or complications during or after delivery.
Chronic ear or lung infections.
Not reaching for toys.
Resistance to being held and cuddled.
Periods of unresponsiveness or "blank" spells.
Feeding problems.
Persistent parent frustration about what the infant wants or why she acts a certain way.
Where can parents turn for help if they are concerned about their baby's development? The first step should be the baby's health care provider, who is familiar with the baby and knows about the normal stages of infant growth and development. If developmental problems are seen, the baby may be eligible for assistance through the Missouri Department of Health and Senior Services Special Health Care Needs (SCHN).
Families who do not have a regular health care provider can contact the public health nurse at their local health department. These nurses are experienced in normal growth and development.
There are many community resources to which parents can turn for help. For more information on child development, you may contact Parents as Teachers by calling your local school district office or by visiting the National Parents as Teachers website. Another resource for information on parenting and child development is ParentLink at 1-800-552-8522, or visit the ParentLink website.