From 8 to 12 Months - Nutrition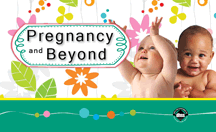 Foods added to your baby's diet must provide the nutrients needed in the textures and consistencies that match your baby's ability to chew and swallow. Infant cereals and strained fruits and vegetables that are smooth and semi-liquid foods are good first foods.
Babies can choke on almost any food. They are most likely to have trouble with foods that are round or hard. Infants and children most often choke on hot dogs, candy, nuts, grapes, cookies, carrots, apples, popcorn, peanut butter and sausage-shaped meats. These foods are just the right size to plug the throat.
To prevent choking:
Always watch baby when he is eating.
If baby doesn't have good chewing skills, cook foods well and mash into very small pieces. If you have doubts about a food, don't feed it to baby.
Make sure that baby is sitting upright when eating and drinking. Baby bottles should be held and not propped.
Be prepared - ask your health care provider what to do if choking occurs.
To learn more about feeding babies at this age, visit the infant nutrition web pages of the Missouri Department of Health and Senior Services. There you will find resources to download on topics such as food allergies, homemade baby food, and healthy weight.