Nutrition for Infants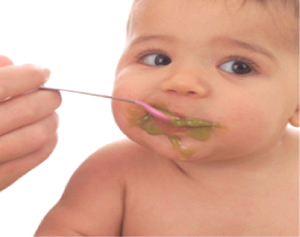 During the first year of life, infants grow more than they will at any other time in life. They usually triple their birth weight and increase their length by half of their birth length. Good nutrition during this time will help babies grow and develop well. Feeding also plays a role in enhancing social and cognitive ability.

Breastfeeding: Best from the Start, Bond from the Heart

The Missouri Department of Health and Senior Services recognizes that breastfeeding is the "Gold Standard" for infant feeding. Breastfeeding provides many benefits to mothers, infants, the environment, and to the communities of Missouri. The American Academy of Pediatrics recommends exclusive breastfeeding for a baby's first 6 months and the continuation of breastfeeding through the first year of life. Human milk has all the essential nutrients and calories to meet infants' nutrition needs.

The Department of Health and Senior Services has gathered these web links to provide information about proper nutrition as well as food assistance to help infants reach their optimum life expectancy and to enjoy better health and quality of life.

Women, Infants and Children (WIC) is a special supplemental nutrition program which provides services to pregnant women, new mothers, infants and children up to their 5th birthday based on nutritional risk and income eligibility. The primary services provided are health screening, risk assessment, nutrition education and counseling, breastfeeding promotion and referrals to health care. Supplemental food is provided at no cost to participants.

Past experience shows that pregnant women who participate in the WIC Program have fewer low birth weight babies, experience fewer infant deaths, see the doctor earlier in pregnancy and eat healthier.