Missouri Alzheimer's State Plan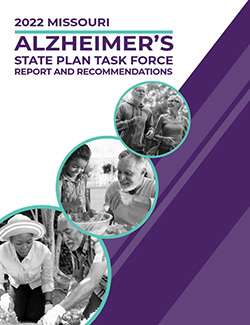 View the Missouri Alzheimer's State Plan Task Force Report and Recommendations
Background
Alzheimer's disease and related dementias are a national crisis, affecting Americans across all walks of life and all regions of Missouri and the country. According to the Alzheimer's Association, 120,000 Missourians are currently diagnosed with Alzheimer's disease. Caring for those with Alzheimer's and related dementias cost the country approximately $321 billion in 2021, with an estimated increase of up to $ 1 trillion by 2050. In 2019, an estimated one in three seniors died from Alzheimer's or a related dementia. In Missouri, the most recent available data (2019) revealed 2,782 deaths from Alzheimer's and related dementias, an increase of 153.8% since 2000.
State Plan
It is well documented that underrepresented and under-resourced communities are disproportionately impacted by Alzheimer's and dementia, and yet are less likely to be diagnosed; less likely to be recruited to participate in health research, and less likely to have access to care and support services. Successful implementation of these recommendations will require culturally-tailored approaches to benefit all residents of Missouri. The task force identified four focus areas with strategies for the State of Missouri to address and respond to the escalating public health crisis regarding Alzheimer's. The plan lays out the recommendations to enable the state of Missouri to meet the needs voiced during the town halls.
Focus Area 1: Advance Risk Reduction, Early Detection and Timely Diagnosis
Focus Area 2: Increase Access to Care, Support, and Treatment
Focus Area 3: Improve Quality of Care
Focus Area 4: Ensure a Coordinated Statewide Response
Task Force
The Missouri Alzheimer's State Plan Task Force was commissioned by the 101st General Assembly to:
Assess the current and future impact of Alzheimer's disease on Missourians.
Examine existing services and resources for persons with Alzheimer's and their caregivers.
Develop recommendations to respond to the public health crisis of Alzheimer's in Missouri.
Ensure inclusion of all ethnic and racial populations that have a higher risk.
Identify opportunities for the state to partner with federal government entities.
Provide information and coordination across all state agencies regarding Alzheimer's.
Examine dementia-specific training requirements across health care, adult protective services workers, law enforcement, and all other areas in which staff are involved with the delivery of care to those with Alzheimer's disease and other dementias.
Develop strategies to increase the diagnostic rate of Alzheimer's disease in Missouri.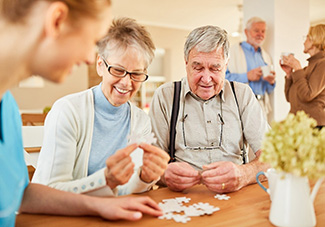 The members of the Task Force included representation from state government composed of the Lieutenant Governor, the state departments of Health & Senior Services, Social Services, and Mental Health, the Missouri Division of Workforce Development, the Missouri Veterans Commission, the House of Representatives and State Senate, professionals working with persons with Alzheimer's, family caregivers and a person living with Alzheimer's disease or related dementias. Upon completion of reviewing current services and resources related to Alzheimer's and other dementias and hearing the needs of Missourians through 8 community forums, the Alzheimer's State Plan Task Force developed the Missouri Alzheimer's State Plan Task Force Report and Recommendations which were presented to the Governor and the legislature at the close of 2022.
The work of implementing the recommendations of the task force is currently underway. Funding is being pursued and secured. Collaborations among state agencies, nonprofit groups, and other partners are being strengthened. Members of the task force and other stakeholders are active participants in Aging with Dignity: Missouri's Master Plan on Aging.
For more information or questions about the Alzheimer's State Plan, email MOAlzStatePlan@health.mo.gov