Family Stories
LeAnn Boehm
LeAnn's Story by LeAnn Boehm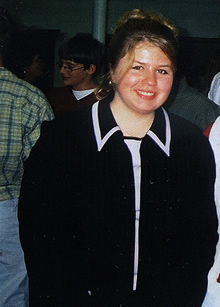 I would like to tell you about the last couple of years and what it's like to live with rheumatoid arthritis. My freshman year of high school was difficult for me. Not only was adjusting to a new school hard enough, but also it was hard finding new friends. I played softball and was proud to be on the team; I was one of the best hitters. I also played some Varsity softball. About half way through the season, my knee started hurting me, then my wrist, and then my ankles. The only thing the doctor said was, "It's sprained—no softball for a week". I missed most of the second part of the season. I couldn't play, so I sat on the bench most of the time. After softball season, I was still in pain. My mom kept telling me, "LeAnn, it's growing pains, it will be okay". I told my mom that I wanted to see a doctor about the pain. The doctor said that he wanted to run some blood tests to see if anything "popped up". The day before Valentine's Day my doctor called and said that he wanted me to come in as soon as possible, so I went to see him that day. He then told us that my rheumatoid factor was the highest he'd ever seen, even in an adult; I was only 15 at the time. He sat down and told us everything he knew about the disease. He told us that there would be a lot of changes in my bones and joints. I shrugged it off and thought to myself, "I'm the healthiest in my family. Stanley's and Dad's hearts are bad and Mom keeps getting hernias all of the time. I can't get sick."
My doctor referred us to a Rheumatologist and two weeks later I saw Dr. Karen Rice, M.D. At first I thought she was crazy; I was okay. The Sunday after my first appointment with Dr. Rice, I woke up about 4:00 a.m. and I couldn't move—it hurt too much. I thought that if maybe I would roll off of the couch and onto the floor, I could pop my back, but I still couldn't move. I couldn't yell for anyone to help either, my jaw hurt too much to talk. Luckily, my mom got up and I asked her to help me because I couldn't move. She got me into the car and took me to the hospital. At the hospital, they said that this severe type of attack could happen about once a year. After receiving three morphine shots it still hurt, but they said I could go home and rest. I was unable to walk for three days due to the morphine and the pain. The doctors told my mom to keep me calm and to give me pain pills every 4-6 hours. After the attack, the doctors started me Prednisone. If I'd known then what I know now, I'd have never taken it--I would have just lived with the pain. I've been taking it since the attack and my body is now addicted to it. If I skip a dose, I get pains everywhere.
Over the summer after my freshman year, I didn't have any problems and I was still active; my sophomore year I started to play softball again. The first day of conditioning I was doing well. After practice, the new coach wanted everyone to run some sprints. After running, I started to throw up—I couldn't even keep water down. My mom was out of town so I went home and took an ice cold shower to cool off. I kept drinking water and just kept getting sicker. When my dad came home, he called his medical supervisor at work and asked him what to do—he said to drink water. My dad went back to work and I laid on the couch and fell asleep. When my mom came home a little while later and touched me, she said that I was ice cold and sweating. I was so scared. She then took me to the hospital where they tried several times to put in an IV. They had a really hard time with the IV since I was so dehydrated; an hour and six nurses later, they finally got one in. They pumped in fluids as fast as they could and afterwards they took my blood pressure. My heart was racing and my blood pressure was high; I then had to drink a giant cup of water as fast as I could—luckily my heart slowed down. They sent me home and I had to rest for a week. When I went back to softball practice, the coaches were afraid to make me run or do anything for fear of making me sick. The whole softball season was shot. After a while I started to play again, but I still got sick very easily.
This past November was a bad month for me. My right wrist, elbow, and fingers are all starting to cripple. I've had to get Cortisone shots in my fingers so I'm able to write. This is also happening to my knees, hips, jaw, and ankles; they're all starting to give out.
My physical difficulties I can manage, it's my mental attitude that I have more challenges with. If I tell someone that I have rheumatoid arthritis, I feel as though I get looked at differently than before. For example when I found out about my tests, I told my best friend in the world; she now thinks that I since I can't run or walk as fast as I once could that we can't do fun things like we did before. I still do normal things. I still go out on weekends but I don't drink alcoholic beverages. I've found new friends that know you don't have to drink all of the time to still have fun.
Another problem that I face is how to tell a boyfriend that I have rheumatoid arthritis. I find it really hard to just come out and say that I might be crippled before I'm eighteen. Luckily most of the guys I know already know about it, and most of them will help me find information about it.
My medications are also another one of the things that bother me a lot. Saturday's through Thursday's I take about 11 pills a day and on Friday I take about 18 pills. When I spend the night at a friend's house and have to take my pills in front of them, they're always scared that the pills are going to hurt me. The worst part about the medicines are the side effects, for example, with the Prednisone, I've gained 25-40 pounds. That's bad for me since I'm supposed to stay in shape for sports. Also, with all of my other medications, Celebrex, Plaquinill, and Methotrexate, some days I can't eat anything because they make me sick to my stomach, but I still gain weight. I think I could deal with all of the medicines if I didn't have to take the Prednisone-it's really changed my life. My doctor says that for my height (5'2") that I should only weigh about 119 pounds. I told her that when I get off of the Prednisone that I'll try harder to lose the extra weight.
With each passing day, I feel different. I just hope that my arthritis slows down and stays calm for a while. With everything in my life, I try to make the best of it. I'll do anything to make someone smile and think that making someone happy is the best feeling in the world.
Taylor Simmons
Taylor's Story by Tracy Simmons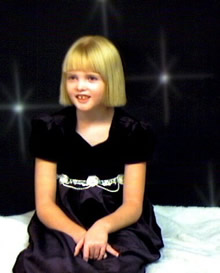 When I realized my daughter had developmental delays and a seizure disorder I was devastated; everything I had hoped and dreamed for her died at that time. I felt as though she would not have a positive future; little did I know the blessing I had been dealt.
Taylor is now 10 years old and although she is not toilet trained, requires constant supervision (as she has no understanding of danger), and continues to have seizures despite numerous medications, I recognize that the rewards of having Taylor in my life far outweigh the challenges.
Taylor received the diagnosis of Epilepsy at the age of 7 months, Autism at 2 ½ years, Leaky Gut Syndrome at 8 and Hyperthyroidism at the age of 9. She started school at our local early childhood center when she was 3 years old. I had no prior knowledge of the world of special education. Since that time I have continued to gather information and increase my knowledge to ensure she receives an appropriate public education.
When Taylor was 15 months old she started receiving services through Special Health Care Needs (SHCN). Her service coordinator was instrumental in assisting us with Taylor's needs and the challenges of having a child with a disability; she continues to receive services today. I am actively involved in SHCN's Family Partnership and look forward to the quarterly meetings.
Unfortunately, no one handed me a guidebook on raising a child with disabilities and therefore I continue to learn more lessons as time goes by. I am thankful for the other parents of children with disabilities that have advocated for the services my daughter currently receives and see the value in parents uniting together. With my support I am confident Taylor will have a happy and meaningful life.
I would encourage parents to recognize their child's abilities and gifts. All children with disabilities have lessons to teach us and we must allow them to do so.

Olivia Harness-Clark
Olivia's Story by Amanda Harness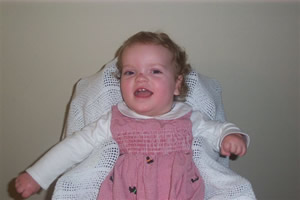 The Harness-Clark family of Independence, MO consists of Amanda and Jill, and their children Griffin, 3, and Olivia, 2 years. Griffin is a bright and typically able boy, and Olivia is a beautiful, curly-haired, bright-eyed little girl who happens to have Cerebral Palsy.
Olivia was born via emergency c-section after an attempted vaginal birth; Griffin had also been delivered by means of a cesarean. My uterus had ruptured during labor and she had been expelled into my abdomen and was without oxygen for about 15 minutes before she could be delivered. Olivia had to be resuscitated and put on life support, and we were told that her brain would swell and bleed and that we would probably have to wind up taking her off of life support. Olivia had other plans though, thankfully. She was breathing completely on her own and her seizures stopped within 24 hours of birth. She was home and nursing with seemingly no ill effects 10 days after delivery. We were told not to anticipate any problems.
Unfortunately, that was not the case; around 6 months of age she was diagnosed with Cerebral Palsy. She takes medication and has several pieces of equipment that help her daily.
We began suspecting problems when Olivia was around 2 months old. She was very stiff, she wasn't growing out of a lot of those newborn baby reflexes, her suck was weak, and she didn't have the head and neck control that other babies her age typically had. Olivia was seen by a developmental Pediatrician at Children's Mercy Hospital and given a diagnosis of spastic quadriplegic Cerebral Palsy at 6 months of age. In a nutshell, CP is brain damage caused from either lack of oxygen or bleeding in the brain before, during, or immediately following birth, or brain injury early in childhood.
Olivia has been on liquid Klonipin and Baclofen and has received Botox injections to reduce her tightness. Olivia has several pieces of equipment that help her daily. She wears DAFO's (tiny little plastic leg braces) to help support her legs, she uses a stander to help her to bear weight on her legs, and she uses a Kid Kart (kind of a youth wheelchair) to eat in and for mobility. She receives therapy 6 times a week through the First Steps program. We love First Steps because it allows the therapists to work with us on our goals and in our own home. She is now much better able to move her body and is also starting to find her voice, which we are thrilled about!
We were given the double-whammy of receiving a completely unrelated diagnosis when Olivia was 15 months old. After being sent to a geneticist, we found that Olivia had a genetic disease called Neurofibromatosis type 1 (NF1). NF1 was diagnosed because Olivia has a lot of café au lait birthmarks on her body and a lot of armpit and groin freckling.
Despite the hurdles and fears, we lead a happy life and enjoy both of our children tremendously. We know that Olivia has many purposes on this Earth, and we cannot wait to see how her life unfolds and the great things that she will do. This is not exactly the ride we signed up for, but it is filled with great joy and hope, and we wouldn't take the other road for anything.

Keith Woodhurst
Keith's Story by Bev Woodhurst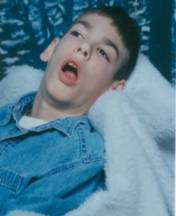 I was 17 years old and in labor with my first child. After 18 hours of pain, I finally gave birth to a beautiful baby boy, 7 pounds, 5 ounces and 22 inches long. He had all his fingers and toes and looked just like his daddy. The one thing he didn't have was his health.
He was gasping for air and making a gurgling sound. I knew right then something was wrong as they whisked him away to the nursery, but little did I know what was ahead.
After about 4 hours, the pediatrician came in and told me I had a very sick baby. I had just spent over 18 hours in labor, no parents were with me, and his dad had gone home to rest after being up all night long.
I was told he had fluid in both lungs and also an infection in his blood that he could die from.
I was given choices of hospitals to have him taken to, as the local hospital could not meet his needs. He was flown by helicopter when he was 6 hours old and I had not even had the chance to hold him yet. Day in and day out, he was tested, poked, probed, and x-rayed. As it happened, he also had an ulcer and hydrocephalus.
For 56 days, we went back and forth to the hospital and sometimes were told not to even talk to him or touch him because they needed to run tests that my voice or touch would interfere with. As time went on, I felt like dying myself. I couldn't do anything with my own newborn that most moms get to do with theirs. I could only do what the nurses said to do.
Finally, the day he was 8 weeks old, we got to bring him home! His dad and I were a nervous wreck! We took turns sleeping so that the other one could sit up and watch him breathe. After being on a ventilator for 6 ½ weeks, we weren't sure he could do it on his own at that point.
The day after we came home, we had a visit from a nurse from what used to be "Crippled Children's". What a wonderful lady she was! She came in and checked him out. She listened to what we were concerned about, his medication routine, and his feedings. She was so compassionate and I wish to this day, I could remember who she was so I could contact her and tell her how important it was that she came that day.
There were so many things to remember and I felt like at some point I would forget something and might make him sick or have to go to the hospital. Regardless, even though I was only 17, she assured me I was a good mom and to never be afraid to ask for help or ask questions.
On Keith's first birthday, he was diagnosed with cerebral palsy. I immediately came home and called the Bureau because I knew that they would have answers for me.
From that time on, the program changed from time to time, budgets were increased and cut back, and we had different service coordinators but they all were very nice to us and concerned about what we were concerned about. They were always respectful and as my son got older, our needs changed and they were always able to assist us if nothing more than providing phone numbers or information for me.
My son Keith is now 17 years old. He attends school five days a week. He is a typical teenager. He has a younger sister Darcy, who is almost 14, a brother Tanner, who is almost 12, and a brother Evan who is 8. Turned out Tanner also had issues at birth and needed some surgery and the Bureau was there for every step of it.
For the last four years, Keith has received nursing assistance and personal care assistance off and on so that I may work. I would not have been able to do the things I needed to do for my family if this service was not available. His dad has had two back surgeries and can't lift him.
I don't know what other families have experienced with their children, but I can certainly say that regardless of what the program is called, it has been a lifesaver for me and my family in a sea of uncertainty. No one knows what the next day will bring, but I know I can call at any time and either get information that I don't already have, or have two ears to simply listen to me and get me through the day!