Cancer
Cancer is a group of diseases characterized by uncontrolled growth and spread of abnormal cells. If the spread is not controlled, it may result in death. Most types of cancer cells form a lump or mass called a tumor and are named after the part of the body where the tumor originates. Cancer is caused by both external and internal factors.
Missouri is home to an estimated 300,000 cancer survivors. Nationally, 2 out of every 5 people are at risk of developing cancer during their lifetime, with one in five at risk of dying from cancer. In 2016, 32,687 of Missouri's residents were diagnosed with invasive cancer. This amounted to nearly four new cases of cancer diagnosed every hour of every day.
With an average of 12,685 deaths annually (individuals 45 and older) during 2017-2018, cancer is second only to heart disease as a leading cause of death among adult Missourians.
Specific cancer data for Missouri and for individual counties can be accessed at: Cancer MICA or Death MICA.
Life Savers - Programs For You!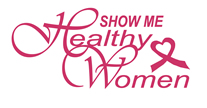 WISEWOMAN
Get access to health screenings and lifestyle education that can reduce the risk of heart disease and stroke.