Tobacco Control
Tobacco Use
Tobacco use costs lives and money. Every year, almost 10,000 Missourians die from tobacco-related diseases. Missouri spends almost two billion dollars annually to treat smoking-related illness. Secondhand smoke causes an average of 1,150 deaths in Missouri annually.
In Missouri...
the adult smoking rate (22.1 percent in 2013) is the ninth highest in the U.S. The smoking rate for Missouri's pregnant women has declined from 18.3 percent in 2000 to 17.5 percent in 2013 but is still significantly higher than the national average. The smoking rate among high school students, at 14.9 percent, is also higher than the national average, although it is on a significant downward decline. More than 90.0 percent of adult smokers began the habit before they were 18 years old. However, when considering spit tobacco and other types of tobacco in addition to smoking, the rate of use among Missouri kids jumps to 31.8 percent.
Missouri Tobacco Quitline Information



The Missouri Tobacco Quitline is free to anyone in Missouri. Call or use the web to get help to quit smoking or chewing. Both the toll-free number and the web enroll will register you to talk to a trained quit coach. The quit coach will help you plan your quit. The coach can also suggest other resources to help, like nicotine replacement therapy.
The Quitline can help:
Tobacco users of all ages
Pregnant smokers
Smokeless tobacco users
Former smokers to avoid a relapse
Health care providers to learn about resources for patients who smoke
Research shows professional coaching helps smokers quit. Success with a coach is twice as likely over trying to quit alone. Live people answer Missouri's Quitline 24 hours a day, 7 days a week. Quit coaches are on duty 24 hours a day, seven days a week.
Additional Resources for Smoking Cessation
Smokefree Air
Second-hand smoke is also called passive smoke. It is both kinds of smoke from burning tobacco:
Side-stream smoke from the end of a lighted cigarette, pipe, or cigar, and
Mainstream smoke that a smoker breathes out.
There is no safe level of exposure to secondhand smoke. Non-smokers who breathe in secondhand smoke take in nicotine and other toxic chemicals just like smokers do. Studies have shown that even low levels of secondhand smoke exposure can be harmful.
Children who breathe in secondhand smoke are more likely to have problems with their lungs. Babies exposed to secondhand smoke during pregnancy are at greater risk of sudden infant death syndrome (SIDS).
Secondhand smoke breathed in by pregnant women passes nicotine on to unborn babies. Pregnant women who breathe in secondhand smoke also become more at risk for:
having a miscarriage
having a stillbirth, and
having a low birthweight infant. 
The only way to completely protect nonsmokers from secondhand smoke is to remove smoking in public spaces.  Separate smoking sections and filtration systems cannot completely remove secondhand smoke from the air.
Almost three in five Americans do not live under comprehensive state or local laws that make workplaces, restaurants, and bars smoke-free.  The Missouri legislature passed a Clean Indoor Air (CIA) law in 2002.  This law makes it illegal to smoke in "a public place or a public meeting except in a designated smoking area."  The current CIA law provides exemptions for:
Restaurants,
bars and taverns,
bowling alleys,
billiards parlors,
tobacco stores where more than 50 percent of sales is related to sale of tobacco products, and
enclosed indoor arenas or stadiums with seating capacities of more than 15,000 people.
Cities, towns, and counties may have laws with more strict terms than the state law. In recent years several local communities have passed comprehensive smokefree laws stronger than the state law. Efforts to pass comprehensive smokefree laws continue in many towns and cities throughout the state. Visit the following links for more information on smokefree information and efforts throughout the state.
Active Tobacco Control Community Coalitions
CIA Handbook 
Frequently Asked Questions about Missouri's Clean Indoor Air Law
Missouri's Clean Indoor Air Law - Brochure
Missouri's Clean Indoor Air Statutes
Youth Tobacco Use Prevention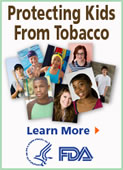 Smoking threatens the health of thousands of young people in Missouri every year. Almost 11% of high school students in the state smoke.
Children and adolescents who smoke are less physically fit and have more respiratory illnesses than their peers who don't smoke. Smoking during childhood is related to impaired lung growth, chronic coughing and wheezing. It also speeds up the decline of lung function during late adolescence and early adulthood.
Youth who smoke often continue smoking into adulthood, which increases their risk for lung cancer, heart disease, stroke and other serious health problems. More than 90% of adults who smoke started before they were 18 years old.
If the current rate of youth smoking continues, approximately 128,000 youth in Missouri will die prematurely.
Because it is often difficult to stop smoking, preventing youth from ever starting to smoke is key to reducing tobacco use in Missourians of all ages.
Young people throughout the state are involved in several programs to prevent smoking among youth in Missouri.
For information on how to help a teen quit smoking visit http://www.mayoclinic.org/healthy-living/tween-and-teen-health/in-depth/teen-smoking/art-20047069.