Smoking and Tobacco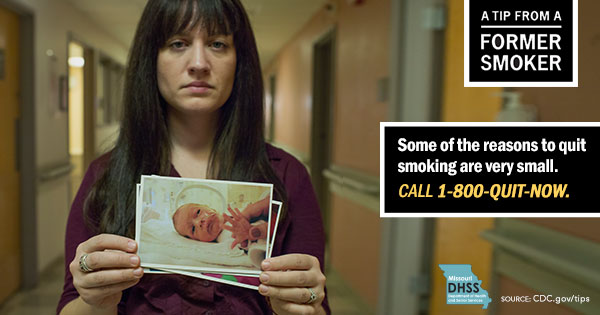 Tips From Former Smokers® Campaign
The Centers for Disease Control and Prevention (CDC) is continuing Tips From Former Smokers® (Tips®), a national tobacco education campaign which features real people living with the effects of smoking-related diseases and impacted by secondhand smoke. New ads will be featured through October, 2019.

Stories shared through the Tips campaign show how smoking-related illnesses have forever changed the lives of everyday people. One such story is that of Amanda, who when she learned she was pregnant, tried to quit but couldn't beat the addiction. Her baby was born two months early, weighing only 3 pounds and was kept in an incubator until strong enough to go home.

The best way to protect yourself and others from the harmful effects of smoking is to never smoke, and if you do use tobacco products, including electronic cigarettes (vaping), quit.

Click on the buttons below to learn more about the CDC Tips campaign, how smoking during pregnancy affects mother and baby and resources to help you or your loved ones quit.

For those trying to quit tobacco, help is available. Click the buttons below for more information and free resources to help teens (under 18) or adults (18 and older) quit.

Missouri's comprehensive tobacco control initiatives include efforts to create community smoke free air laws, youth tobacco use prevention, tobacco cessation assistance, and education and awareness through media.

Missouri offers free help to smokers who want to quit using tobacco. The Missouri Tobacco Quitline provides counseling, information, and referrals. The Quitline number is 1-800-QUIT-NOW (1-800-784-8669).

By July 30, 2018, the United States Department of Housing and Urban Development (HUD) required all HUD residences and common areas to be protected by a smoke-free policy. The policy must include:
Cigarettes and cigars cannot be smoked in buildings on HUD properties, including offices, residences, and common areas, or within 25 feet of any buildings on HUD property.
Although electronic cigarettes are not required to be included in the policy, management of public housing authorities may also prohibit the use of these products in their facilities.
For those that manage public housing authorities, review the following toolkit for information and resources to assist with the implementation and enforcement of the policy.