Tobacco Use Prevention and Control
Tobacco Use
Tobacco use costs lives and money. Every year, almost 11,000 Missourians die from tobacco-related diseases. Missouri spends almost $3 billion annually to treat smoking-related illness. Additionally, Missouri spends over $3 billion annually in smoking-attributed productivity losses.
In Missouri...
The adult smoking rate (19.4 percent in 2018) is the tenth highest in the U.S.
The smoking rate for Missouri's pregnant women is 15.3 percent, more than double the national rate of 7.2 percent.
The smoking rate among high school students continues to decline and was at 9.2 percent in 2017 which is only slightly higher than the national average (8.8 percent). However, when considering other types of tobacco products like spit tobacco and electronic cigarettes in addition to smoking, the rate of use among Missouri high school
youth in 2017 jumps to 20.8 percent.
Nearly 9 out of 10 cigarette smokers first try cigarette smoking by age 18, and 98% first try smoking by age 26.
Smoke-Free Air
Second-hand smoke is also called passive smoke. It is both kinds of smoke from burning tobacco:
Side-stream smoke from the end of a lighted cigarette, pipe, or cigar, and
Mainstream smoke that a smoker breathes out.
There is no safe level of exposure to secondhand smoke. Non-smokers who breathe in secondhand smoke take in nicotine and other toxic chemicals just like smokers do. Studies have shown that even low levels of secondhand smoke exposure can be harmful.
Children who breathe in secondhand smoke are more likely to have problems with their lungs. Babies exposed to secondhand smoke during pregnancy are at greater risk of sudden infant death syndrome (SIDS).
Secondhand smoke breathed in by pregnant women passes nicotine on to unborn babies. Pregnant women who breathe in secondhand smoke also become more at risk for:
having a miscarriage
having a stillbirth, and
having a low birthweight infant.
The only way to completely protect nonsmokers from secondhand smoke is to remove smoking in public spaces. Separate smoking sections and filtration systems cannot completely remove secondhand smoke from the air.
Almost three in five Americans do not live under comprehensive state or local laws that make workplaces, restaurants, and bars smoke-free. The Missouri legislature passed a Clean Indoor Air (CIA) law in 2002. This law makes it illegal to smoke in "a public place or a public meeting except in a designated smoking area." The current CIA law provides exemptions for:
Restaurants,
bars and taverns,
bowling alleys,
billiards parlors,
tobacco stores where more than 50 percent of sales is related to sale of tobacco products, and
enclosed indoor arenas or stadiums with seating capacities of more than 15,000 people.
Cities, towns, and counties may have laws with more strict terms than the state law. In recent years several local communities have passed comprehensive smoke-free laws stronger than the state law. Efforts to pass comprehensive smoke-free laws continue in many towns and cities throughout the state. Visit the following links for more information on smoke-free information and efforts throughout the state.
Youth Tobacco Use Prevention
What's New in Teen Tobacco and E-cigarette Use? NEW
Smoking threatens the health of thousands of young people in Missouri every year. Almost 9% of high school students in Missouri smoke.
Children and adolescents who smoke are less physically fit and have more respiratory illnesses than their peers who don't smoke. Smoking during childhood is related to impaired lung growth, chronic coughing and wheezing. It also speeds up the decline of lung function during late adolescence and early adulthood.
Youth who smoke often continue smoking into adulthood, which increases their risk for lung cancer, heart disease, stroke and other serious health problems.
If the current rate of youth smoking continues, approximately 128,000 youth in Missouri will die prematurely. Because it is often difficult to stop smoking or using tobacco products, preventing youth from ever starting to use tobacco products is key to reducing tobacco use among Missourians of all ages.
Missouri schools have the opportunity to help protect youth from the harmful effects of tobacco use and exposure. Setting a comprehensive tobacco and vape-free school policy that prohibits all tobacco and vaping product use is one step in building a healthier future for youth, shielding them from the chronic and deadly diseases associated with tobacco use. School policies that include a 100% tobacco and vape-free environment prepare students for an ever-increasing tobacco-free world, where tobacco and vaping products are prohibited in worksites, restaurants, airplanes, malls, college campuses, and more.
This toolkit provides the details and tools to assist in instituting a comprehensive tobacco and vape-free school policy. It contains helpful information about adopting, communicating, and enforcing a comprehensive tobacco and vape-free school policy.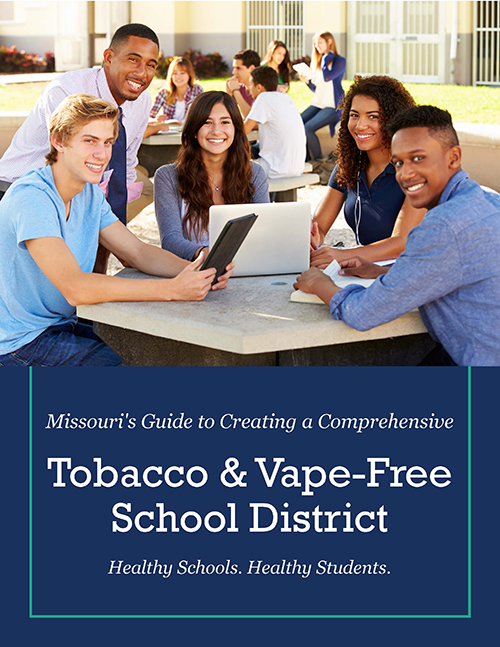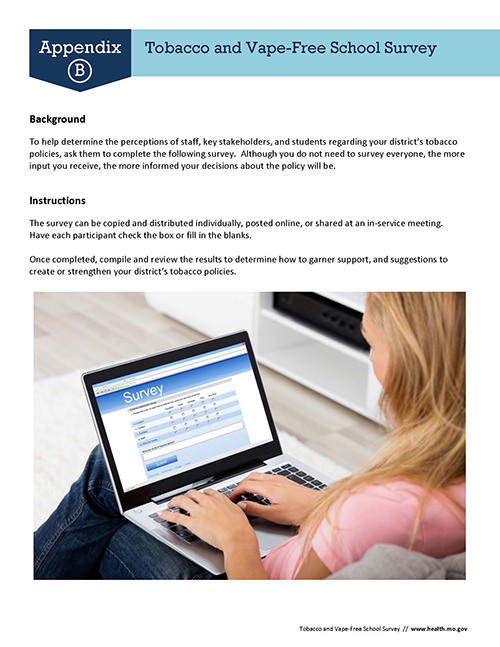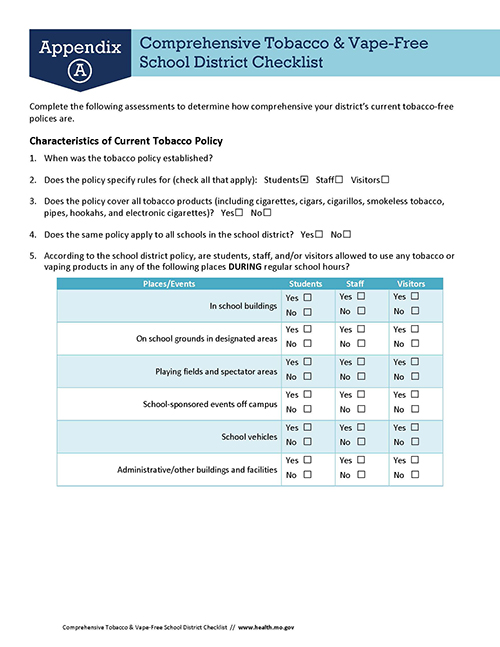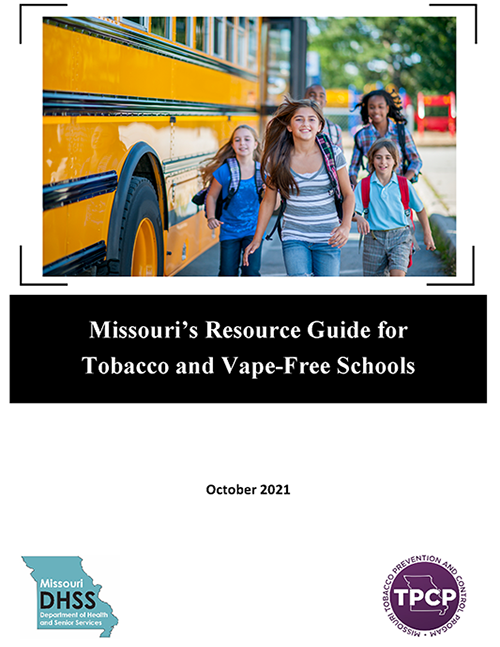 For information on youth tobacco use and how to prevent it, visit the Centers for Disease Control and Prevention.
For help to quit using tobacco products, visit Resources for Youth (under age 18).
Tobacco Education Resources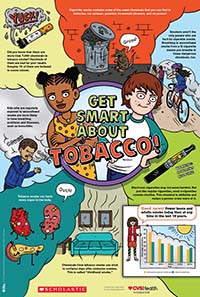 Get Smart About Tobacco – Grades 3-5
A health and science education program for teachers, student worksheets, and parent resources that teach students the facts about the dangers of tobacco and related products.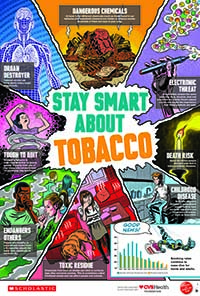 Get Smart About Tobacco – Grades 6-7
A health and science education program for teachers, student worksheets, and parent resources that give students health and science facts about the dangers of tobacco and related products.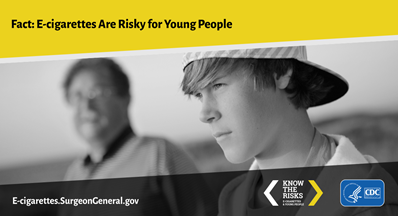 What's New in Teen Tobacco and E-cigarette Use for Teachers
Electronic Cigarettes and Youth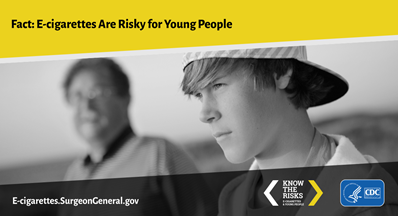 Across the nation, electronic cigarettes (e-cigarettes) are the most commonly used tobacco product among youth. From 2017 to 2018, use of e- cigarettes (commonly referred to as vaping) among youth increased by 78%, resulting in over 3.6 million U.S. middle and high school students using the product in 2018. The significant increase in youth use prompted the Food and Drug Administration to classify e-cigarette use among youth as an epidemic. In response to the epidemic, the Department of Health and Senior Services' Tobacco Prevention and Control Program (TPCP) has a free Train-the-Trainer webinar and resources for adult community members on Teen Vaping.
Resources for Adults
Electronic Cigarette Education and Cessation Resources
Description: This resource guide provides information on free tobacco and e-cigarette education programs, free research-based alternatives to suspension, free education and media resources (e.g., fact sheets, posters, social media), and free research-based youth cessation services.
E-Cigarette Presentation for Youth
Know the Risks: A Youth Guide to E-Cigarettes 
Description: Developed by the Centers for Disease Control and Prevention (CDC), Office on Smoking and Health, this presentation is designed to educate youth on e-cigarettes, including the health risks, the factors that lead to e-cigarette use, and what youth can do to avoid all tobacco products, including e-cigarettes. This resource is intended for adults who educate or serve youth ages 11 – 18. Resources available on the CDC link (above) include the presentation PowerPoint, talking points, and information for users.
Smoke-Free Public Housing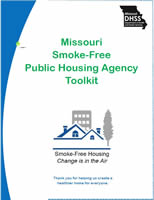 By July 30, 2018, the United States Department of Housing and Urban Development (HUD) required all HUD residences and common areas to be protected by a smoke-free policy. The policy must include:
Cigarettes and cigars cannot be smoked in buildings on HUD properties, including offices, residences, and common areas, or within 25 feet of any buildings on HUD property.
Although electronic cigarettes are not required to be included in the policy, management of public housing authorities may also prohibit the use of these products in their facilities.
For those that manage public housing authorities, review the following toolkit for information and resources to assist with the implementation and enforcement of the policy.