WISEWOMAN

WISEWOMAN (Well-Integrated Screening and Evaluation for Women Across the Nation) provides heart disease and stroke prevention health screenings and education to clients of the Show Me Healthy Women (SMHW) program, Missouri's National Early Breast and Cervical Cancer Control Project.
WISEWOMAN services include annual screenings that measure blood pressure, total cholesterol, HDL, blood glucose, and height and weight for body mass index (BMI). Health assessments identify lifestyle habits that increase the risk of heart disease and stroke including low intake of fruits and vegetables, low physical activity, and smoking. Risk counseling interprets each woman's screening results and explains her risk for heart disease and stroke. WISEWOMAN education helps each woman make changes she is ready to make, helps her set realistic goals, and provides resources and tools to help her make these changes.
To be eligible for WISEWOMAN services, women must be participants in the Show Me Healthy Women breast and cervical cancer control project and meet the program's age (40-64 years) and income guidelines.
Life Savers - Programs For You!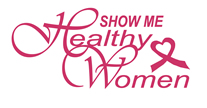 WISEWOMAN
Get access to health screenings and lifestyle education that can reduce the risk of heart disease and stroke.