Board of Nursing Home Administrators
New Rule Change - effective 06/30/23
19 CSR 73-2.130 - Notice of Change of Contact Information and Missouri Administrator Employment
Each administrator shall notify the board office of his/her current contact information within ten (10) calendar days of change for any of the following:

Personal contact information, which shall include administrator license number, personal mailing address, email, and telephone number(s); and
Missouri administrator employment, which shall include, administrator license number, facility name, mailing address, telephone number(s), and employment dates.
To notify the board of contact information changes, please fill out the Administrator Information Update Form
Apply to become an Administrator
The purpose of the Board of Nursing Home Administrators is to protect and advocate for Missouri's long-term care residents by licensing prospective and current long-term care administrators to ensure the highest quality of care and life in Missouri's long-term care homes. A long-term care administrator is someone who administers, manages, supervises, or is in general administrative charge of a long-term care facility (skilled care, intermediate care, assisted living and residential care facility II).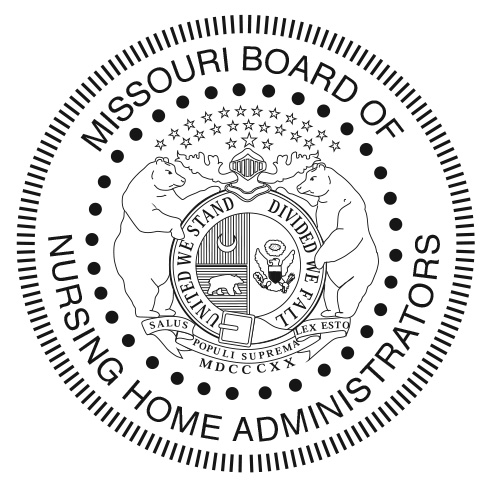 Duties and responsibilities of the Board of Nursing Home Administrators are to develop and enforce standards for long-term care administrators; formulate appropriate examinations, and; issue, renew, and discipline licenses. The board investigates complaints; evaluates and approves continuing education courses to meet license renewal requirements; controls a trainee program for prospective long-term care administrators; and maintains a register of all licensed long-term care administrators including applicants practicing under a temporary emergency license.