School Health
Resources

Data & Statistical Reports
Chronic Conditions & Special Needs
Emergency Preparedness
Health Promotion
Injury Prevention
Healthy Children are Better Learners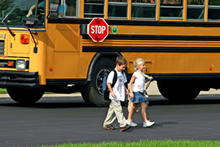 More than 800,000 children attend Missouri's 518 public school districts. Each child has a right to a free and appropriate public education in the least restrictive environment. In every school there are children who are in the best of health and children who are challenged by various health conditions. Fortunately, medical and technological advances now make it possible for many children with chronic health conditions and physical challenges to learn in the same classrooms as other children.
In addition to providing a rigorous academic environment for all students, schools should promote healthy lifestyle choices, help identify and locate services for students with health conditions that may affect learning, and they should meet the health requirements of children with acute and chronic medical needs during the school day. School Nurses help make the provision of health services in a school setting easier and safer for both students and staff.
School nursing is a specialized practice of professional nursing that advances the well-being, academic success and life-long achievement and health of students. To that end, school nurses facilitate positive student responses to normal development; promote health and safety including a healthy environment; intervene with actual and potential health problems; provide case management services; and actively collaborate with others to build student and family capacity for adaptation, self-management, self advocacy, and learning (NASN, 2010). The school nurse has a multi-faceted role within the school setting, one that supports the physical, mental, emotional, and social health of students and their success in the learning process. It is the breadth of nursing activities contained within the role of the school nurse and the unique non-medical setting that differentiates school nursing from other nursing specialties. (AAP, 2011)
State School Nurse Consultant
To support school districts in their efforts to provide all students with a healthy and safe learning environment, the Missouri Department of Health and Senior Services supports a State School Nurse Consultant within the Division of Community and Public Health. The State School Nurse Consultant provides guidance regarding school health services to school districts upon their request.Additionally, the State School Nurse Consultant works with school nurses from across the state to:
Collect and disseminate data regarding school health services in MO;
Formulate school screening guidelines;
Develop and update guidelines for school health services;
Plan and offer educational opportunities for school nurses; and
Facilitate collaborations with agencies and organizations related to school health.