Skin Scraping Exam
Brief Description
This test procedure is used to identifySarcoptes scabiei mites and eggs from skin scrapings sent on microscope slides
Laboratory Unit
Methodology
Microscopic examination of skin scrapings.
Specimen Collection
Kits can be ordered from the MSPHL.  Kits consist of 2 glass 1x3 inch  frosted end microscope slides, 4 glass 22x22mm cover slips, a #15 scalpel blade, a cardboard slide holder, a Ziploc bag, and a return mailing label.  Specimen submission forms can be printed from this website.  The facility collecting the specimen has to provide their own mineral oil and clear nail polish.
Storage/Transport
Kits can be sent at room temperature.  Please allow clear nail polish to dry completely before placing in the cardboard slide holder.
Acceptable Specimen Type(s)
Skin scrapings are examined for scabies mites and eggs.  It is important that we receive at least four cover slips with visible skin scrapings.  Mites burrow and for the test to be accurate more than superficial surface skin needs to be examined.
Test Request Form(s)
Possible Results
If either scabies mites and/or eggs are found, then the test result is postive and reported as "Sarcoptes scabiei mites" and/or "Sarcoptes scabiei eggs". If neither is found, then the test result is "Not Found".
If only two coverslips of material are sent and specimen is negative, results are considered invalid because quantity of material sent is not sufficient. We really recommend collecting 4 coverslips to ensure a good sample.
If there is a lack of material on the slides and specimen is negative, results are considered invalid because quality of material sent is not sufficient.  It is important to include some actual skin on your scrapings since scabies burrow into the skin.
Reference Range
Unacceptable Conditions
Slides that are not labeled with the patient name or identifier are considered unsatisfactory and are discarded without testing.
Interfering Substances
Result Reported
Scabies are read the day they are received in the lab.  All results are called to the submitter as soon as testing is complete.
Fees
As provided in 19 CSR 25-38.010, submitters may be charged a handling charge of $10.00 per sample submitted for testing. 
CPT Codes
LOINC/SNOMED Codes
Additional Information
Sarcoptes scabiei mite (female)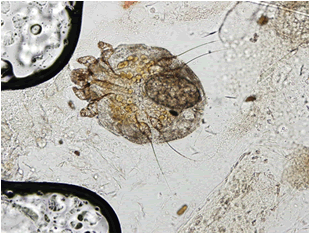 Sarcoptes scabiei eggs