Routine Ova and Parasite Exam
Brief Description
The routine Ova and Parasite exam for intestinal parasites includes a microscopic examination of a concentrated wet mount (using the stool collected in the 10% formalin vial), a trichrome stained slide (using the stool collected in the PVA vial), and the Meridian Merifluor DFA for Cryptosporidium and Giardia (using the stool collected in the 10% formalin vial).
Laboratory Unit
Methodology
Microscopic examination of stool specimens for pathogenic and nonpathogenic intestinal parasites including cysts, trophozoites, larval, worm and egg stages.
Specimen Collection
Ova and Parasite kits can be ordered from the MSPHL.  These kits consist of a 10% formalin vial and an LV-PVA vial.  Specimen submission forms can be printed from this website.  It is recommended that 3 Ova and Parasite kits collected every other day be submitted for each patient being tested.
Storage/Transport
After specimen is collected kits can be shipped at room temperature.  Collected specimens are good until the kits expire.
Acceptable Specimen Type(s)
Stool specimens collected in the 10% formalin vial and the LV-PVA vial found in the Ova and Parasite kit.
Test Request Form(s)
Possible Results
Concentrated wet mount and trichrome slide: If no parasites are found the results go out as "Not Found".   All parasites that are found are identified and reported.
DFA- if Giardia and Cryptosporidium are not found the results for that test are reported as "Not Found".  If either one is found they are identified and reported.
Unacceptable Conditions
The following conditions are considered unsatisfactory for testing:
Specimens that are not labeled with the patient name or identifier
Stool is mixed with urine or only urine is received
Stools collected in sterile containers or in Cary-Blair media
The following conditions will result in incomplete testing:
If only the LV-PVA vial is received the DFA test for Cryptosporidium and Giardia cannot be performed
If only the 10% formalin vial is received
Interfering Substances
Result Reported
Results should be available in 1-2 days.  Pathogenic results are called to the submitter the day testing is complete.
Fees
As provided in 19 CSR 25-38.010, submitters may be charged a handling charge of $10.00 per sample submitted for testing.
CPT Codes
LOINC/SNOMED Codes
Additional Information
Trichuris trichiura egg (whipworm)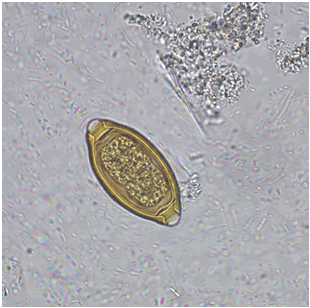 Shistosoma mansoni
Giardia intestinalis (lamblia)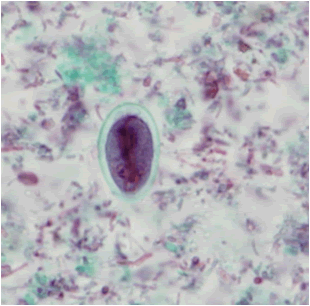 Entamoeba coli trophozoite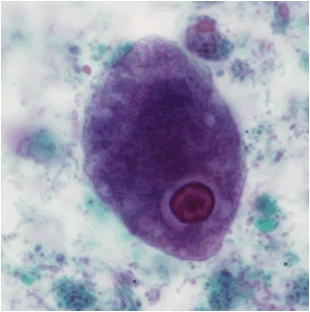 Hookworm eggs