ShowMeVax Information for Schools and Child Care Facilities
What is ShowMeVax?
ShowMeVax is a confidential, computerized system that collects immunization records and helps ensure correct and timely immunizations. The immunization information is available to authorized users, such as health care providers, public health agencies, child care facilities and schools who work together to prevent vaccine-preventable diseases.
What are the benefits of ShowMeVax to child care facilities and schools?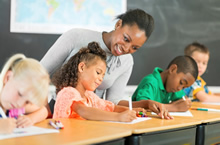 Provides a copy of a child's immunization history for maintaining records, as needed for compliance with school and child care immunization laws and child care licensure rule.
Combines immunizations a child has received into a single record, even if the shots were given at different health care providers throughout the state.
Saves time by allowing access to multiple children's records in one location.
Allows users to quickly identify children who are missing immunizations, in case of a disease outbreak at a child care facility or school.
Helps ensure a child's immunizations are more complete and up-to-date.
Minimizes staff time by allowing them to quickly look up and print immunization records of children in their care.
Ensures compliance with RSMo 210.003 and RSMo 167.181 which requires that children who attend schools and day care facilities or preschools be adequately immunized against vaccine-preventable diseases.
What about privacy?
Protecting the privacy of individuals is important. ShowMeVax is password-protected, confidential and can only be accessed by authorized users as prescribed by law. Health care providers, schools and child care facilities that participate in ShowMeVax must sign a user agreement that details the allowable uses of ShowMeVax. Schools and child care facilities have "Read Only" access in which they can only view and print an immunization record. They do not enter or submit immunization data to ShowMeVax.
What are the steps to gaining access to ShowMeVax?
Contact the Bureau of Immunization Assessment and Assurance (BIAA) at 800-219-3224 or email showmevaxsupport@health.mo.gov to request access.
BIAA will e-mail the Memorandum of Agreement (MOA) for the facility if one is not already on file, to complete and return by fax to 573.526.0238.
Once the Memorandum of Agreement has been approved by BIAA, an email will be sent in 10-14 business days to the facility's contact person with the Automated Security Access Process (ASAP) instructions.
Each ShowMeVax user at the facility must establish an online ASAP Profile and submit a request for ShowMeVax access through ASAP.
Please review the resources found here: http://health.mo.gov/living/wellness/immunizations/pdf/tutorial.pdf
BIAA will then complete the approval process of the ASAP and a confirmation e-mail will be sent to the user within 10-14 business days with a ShowMeVax user ID and temporary password.
Once you receive the user ID and password, access ShowMeVax at https://showmevax.dhss.mo.gov. After initial login, the user will be prompted to change the assigned temporary password.