How to apply for a "Be An Organ Donor" License Plate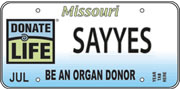 A donation to the Organ Donor Program Fund authorizes the use of the organ donor emblem. The donation is $25 for one-year and $50 for a two-years. The "Be An Organ Donor" license plate must be personalized. You may visit the Department of Revenue's Division of Motor Vehicles web site to check availability of your plate configuration choice prior to applying for it, and to verify you local license office. If you have questions call 1.573.526.3669. Thank you for supporting organ and tissue donation and the registry.
Electronic Application
Complete the online application. A $25 Organ Donor Emblem Use Fee and $15 specialty plate fee will be collected during the online application process.
The DOR will notify you by mail or e-mail when the plate(s) is ready for pick up (approximately eight weeks).
Pick up personalized specialty "Be An Organ Donor" plate(s) at the license office that you designated in the application.
NOTES:
When picking up your new specialty plate(s), surrender your current plate(s) for applicable credit on the new plates.

If you want a two-year plate(s) registration, pay the additional reservation fee ($15) and emblem use donation ($25) at the time of plate pickup.
If you do not have plates or choose not to surrender plates, applicable credit is not available.

A handicapped "Be An Organ Donor" license plate can be issued; limiting the characters available to four on the personalized plate.
To ensure you retain the plate configuration of your choice, renew timely.