Personal Protective Equipment (PPE)
As Missouri initiates the Show Me Strong Recovery plan, access to Personal Protective Equipment (PPE) continues to be recognized as a critical need. The four essential pillars identified for a successful transition to the new normal in the state of Missouri include the expansion of reserves of PPE by opening public and private supply chains and continuing to utilize Missouri businesses in that effort.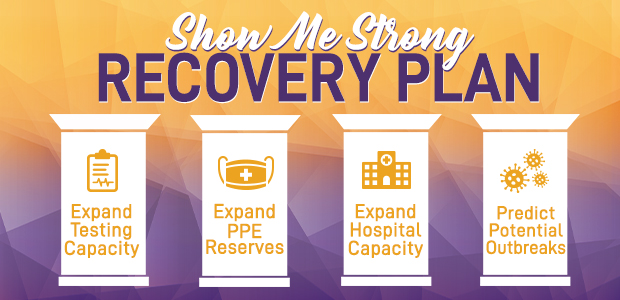 Expanding Access to PPE
Missouri COVID Supply Solution - PPE Marketplace
The State of Missouri has been actively engaged in outreach to medical equipment manufacturers and distributers in an effort to open up new supply chains for PPE and other critical medical supplies. In an effort to streamline this process, we are very excited to announce the Missouri COVID Supply Solution PPE Marketplace is live and ready for your use. This application is designed to match health care providers to suppliers of PPE and other medical supplies.
To participate, select the button above to enter the Missouri PPE Marketplace to register as a buyer using Edge, Chrome, Firefox, or Opera as your internet browser. Once your registration is complete, you can immediately begin adding your current PPE inventory and amounts you want to purchase. Once you complete this step, you can begin searching PPE suppliers. In order for the state to understand demand for PPE supplies, update your PPE inventory amounts every three days within the solution.
Addressing Critical Healthcare Provider Needs
Missouri has limited PPE reserves to assist in filling these critical needs and will prioritize healthcare providers providing direct care to confirmed or suspected COVID patients. Note requests should only be submitted after all normal supply chains, including the Missouri COVID Supply Solution, have been exhausted and you have a supply of fourteen days or less on hand as the quantities and types of PPE available through the state are limited. Please also see the Optimization of PPE section below for further information on how to make your supplies last.
Select the button below to access the PPE Request Form. You will receive an automatically generated email notifying you of receipt of your request. Requests will be evaluated in the order in which they are received. If your request is approved, either in full or partially, you will receive an electronic notification upon shipment. If denied, you will receive an electronic verification of the decision.

PPE from the Missouri Commission for the Deaf and Hard of Hearing
Missouri Commission for the Deaf and Hard of Hearing (MCDHH) is now accepting requests for Personal Protective Equipment (PPE) for Deaf, Hard of Hearing, and Blind Missourians and professionals that serve them. Funding for this project was obtained from the CARES Act by the State of Missouri. Visit mcdhh.mo.gov/masks/ for more information.