Show Me Healthy Women
Show Me Healthy Women (SMHW) offers free breast and cervical cancer screenings for Missouri women who meet age, income and insurance guidelines.
Guidelines
Income at or below 250 percent of the federal poverty level for household income, and
Age 35 to 64, or older if they do not receive Medicare Part B, and
No insurance to cover program services

Fight breast cancer in
Missouri with a Breast
Cancer Awareness
specialty license plate!
Get yours...
Locate a provider near you or call toll-free 866-726-9926.
Life Savers - Programs For You!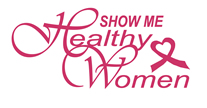 WISEWOMAN
Get access to health screenings and lifestyle education that can reduce the risk of heart disease and stroke.