High Blood Pressure
High blood pressure, or hypertension, is one of the major risk factors for heart disease – the number-one killer in Missouri. High blood pressure is also the number one risk factor for stroke – the third most common cause of death nationwide and the leading cause of disability in the state.

It is estimated that one in three adults has high blood pressure, but many do not know they have it. High blood pressure is sometimes called a "silent killer" because it usually has no symptoms until serious problems develop. However, the condition is easily detected and can usually be controlled.
Maintaining a normal blood pressure level can reduce your risk of having a heart attack or stroke.
With Just a Click Determine Your Risk
Do you know if you are at risk for heart disease, heart failure, stroke, or kidney disease from uncontrolled high blood pressure? Use this free calculator to determine your risk.
Life Savers - Programs For You!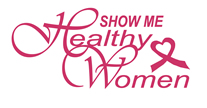 WISEWOMAN
Get access to health screenings and lifestyle education that can reduce the risk of heart disease and stroke.