Adolescent and Teen Health
About Us
The Adolescent Health Program addresses various health topics like positive youth development and teen pregnancy prevention. The Adolescent Health team provides consultation, education, training, technical assistance, and resources for health professionals, school personnel, parents, adolescents, state agencies, and community organizations.
The Adolescent Health team coordinates the Council for Adolescent and School Health (CASH) which helps the Missouri Department of Health and Senior Services identify health priorities for adolescents, promote strategies to reduce health risks, and promote health youth development against diseases that are harmful and sometimes deadly.
Services we provide:
Evidence-based healthy youth development programs, training, and contracts
Professional development to school districts
Conference scholarships for local public health agencies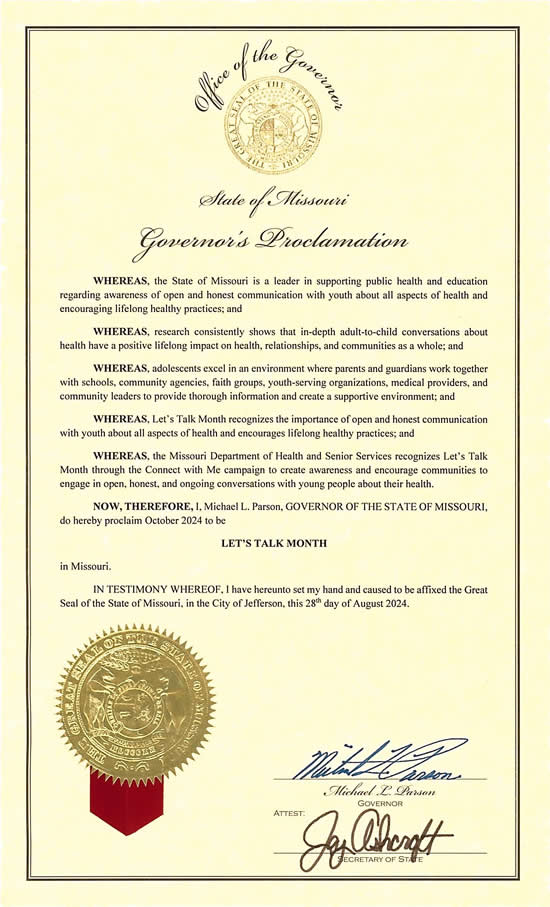 Importance of Good Health during Adolescence
Good health (physical, emotional, social, and spiritual) enables young people to make the most of their teenage years.
Some adolescents' unsafe choices or vulnerable situations can have immediate, life-threatening, and costly consequences.
Being healthy in adolescence provides the foundation for adult health status. Life-long patterns of healthy behaviors are established at this time.
Unhealthy adolescent behaviors can become long-term risk factors for chronic health conditions in adulthood.
Mixed messages and expectations from adults and the media regarding adolescent independence, responsibilities, and sexuality make it all the more important to help guide youth as they grapple with life's new complexities.
Factors that Influence Adolescent Health