Missouri Pregnancy Risk Assessment Monitoring System
Nothing is more important to your baby than good health. By sharing information about your pregnancy, you can help other Missouri moms have healthy babies.
Missouri Pregnancy Risk Assessment Monitoring System (PRAMS) was initiated in 1987 as part of the Centers for Disease Control and Prevention (CDC) initiative to reduce infant mortality and low birth weight. PRAMS is an ongoing, population-based surveillance system designed to identify and monitor selected maternal experiences and behaviors that occur before, during pregnancy and during the child's early infancy.
PRAMS provides statewide estimates of selected perinatal health indicators that are representative of women who have recently delivered a live birth. PRAMS collects data through a mailed survey, an online survey and a telephone follow-up for non-responders.
PRAMS data can be used to:
Monitor progress towards national and state objectives in improving the health of mothers and infants
Enhance understanding of maternal behaviors and their relationship with adverse pregnancy outcomes
Identify and investigate emerging issues maternal and child health
Aid in the development and assessment of programs designed to identify groups of women and infants at high risk for health problems and reduce adverse pregnancy and infant outcomes, and inform policy in each participating state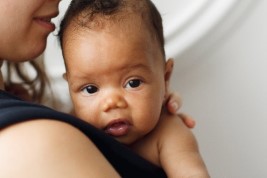 Missouri PRAMS was established in 2006 through a cooperative agreement between the CDC and the Missouri Department of Health and Senior Services. The Missouri PRAMS data collection started in May 2007. Topics of the survey include, but not limited to pregnancy intention, folic acid consumption, contraceptive use, health insurance, prenatal care, breastfeeding, infant health care, alcohol and tobacco use, violence against women, and postpartum depression.
Learn more about the Missouri PRAMS Survey!
Including Missouri, 46 states, New York City, the District of Columbia, the Northern Mariana Islands and Puerto Rico currently participate in PRAMS, representing approximately 81% of all live births in the United States. Click on the link below for more information.