About PAMR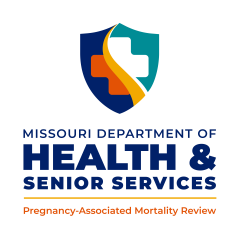 The Department of Health and Senior Services' Division of Community and Public Health is responsible for conducting the state's Maternal Mortality Review known as the Pregnancy-Associated Mortality Review (PAMR) program pursuant to 192.990 RSMo.
During the 2018-2019 session, Missouri legislators passed Senate Bill 514, establishing PAMR. As directed in the law, the Director of the Department of Health and Senior Services appoints members to serve on the PAMR board. The board meets every other month in a closed meeting to examine summaries put together by a trained nurse abstractor. The summaries are compilations of de-identified information about medical encounters, vital statistics, autopsy reports, newspaper articles, social media postings, and/or other relevant records. The board completes a Committee Decision Form for each maternal mortality case to assist with data entry and analysis. Documents and data collected for the maternal mortality review process are confidential; the board is prohibited from releasing any information that could identify individuals.
PAMR Board Representation
The PAMR board consists of approximately 18 geographically diverse members representing various specialties that interact and impact maternal health.
The following stakeholders/organizations are represented on the PAMR board, but this list may not be all inclusive at any given time. The PAMR program seeks to identify membership based upon geographic location and area of expertise especially in Missouri communities most affected by maternal mortality.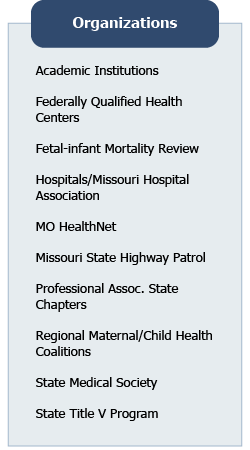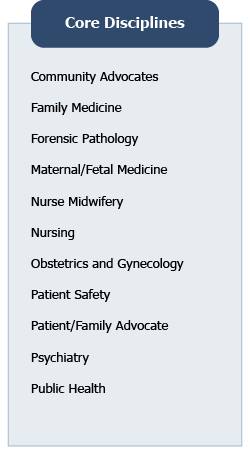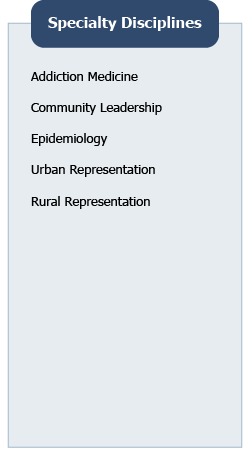 History of PAMR
Upon establishing a maternal mortality review committee in 2011, the Missouri PAMR program completed a historical analysis of maternal deaths from 1999 through 2008. While establishing a Pregnancy-Associated Mortality Review program and board in 2012, the program engaged community stakeholders, and decided to use its findings as an opportunity to raise awareness of maternal mortality in the state.
The DHSS conducted three town hall meetings in 2013 with health providers and the public to share its findings from reviewing more than a decade of maternal deaths. In addition to raising awareness of the problem of maternal mortality, the committee wanted to solicit community perspectives on the major barriers to care for pregnant women so that it could develop targeted interventions. The community's feedback was consistent with the committee's findings: limited access to care, unhealthy lifestyles, prevalence of chronic conditions, substance use, poor health literacy, and inadequate provider knowledge of contributors to maternal mortality.
With support from Merck for Mothers, the Association of Maternal & Child Health Programs (AMCHP) Every Mother Initiative launched in 2013 to help states take specific and focused steps to reduce maternal mortality and maternal morbidity. The core elements of the initiative were two Action Learning Collaboratives (ALCs) comprised of two cohorts of six states:
Cohort 1-Colorado, Delaware, Georgia, New York, North Carolina and Ohio (2013)
Cohort 2 –Illinois, Florida, Louisiana, Missouri, Utah and Oklahoma (2014)
ALCs are multidisciplinary learning communities that analyze a public health problem and implement program and policy solutions. Each cohort of states worked together over a 15-month period to:
Strengthen their state-based maternal mortality review process; and
Ensure the efforts of their reviews characterize the factors contributing to maternal deaths lead to data-informed and effective population-based strategies to prevent further occurrence.
Missouri activities completed:
Gathered qualitative data through town hall meetings and a survey of healthcare providers to:

Assess awareness of maternal mortality issues.
Assess barriers to preconception, prenatal, and postpartum care.
Gain insight to potential prevention strategies.

Expanded Missouri Hospital Association (MHA) initiatives (preeclampsia and hemorrhage toolkits) to birthing hospitals in Missouri.
Implemented a marketing campaign that targeted women of childbearing age to increase their awareness of maternal mortality and morbidity risks.