COVID-19 and Well-Child Checkups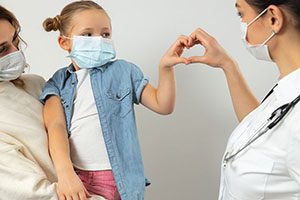 Missouri has reopened, and it's important for parents to work with their children's doctor or nurse to make sure their children stay up-to-date on routine vaccines.
Children need to be protected against vaccine-preventable diseases. Children who are not protected by vaccines may be more likely to get diseases like measles and whooping cough.
Pediatric and family practice offices are safe, open, and ready to care for your children. Providers are offering well visits, sick visits, preventive screenings, mental and behavioral health services, and vaccinations.

Patient health and safety is the No. 1 priority of health care providers, and they have worked to ensure their offices are safe for all families.
If you have concerns, contact your child's health care provider to see what precautions their office is taking to keep patients safe.
When you make an appointment, ask whether masks or face coverings will be provided for you and your child, or if you need to use your own. Masks or face coverings are recommended for anyone over age 2. Check here for any local public health orders.
If your child's provider is not currently seeing children for well visits and/or vaccinations, ask about alternative plans to get your child immunized.

Well-child check-ups are as important as ever.

Missing routine health check-ups may put kids at risk for health issues. Well-visits are a chance to talk with your child's provider about questions and concerns related to your child's health.
Children who are not protected by vaccines are more vulnerable to preventable diseases such as measles and whooping cough.
The Centers for Disease Control and Prevention (CDC) and the American Academy of Pediatrics (AAP) recommend that parents continue scheduling their child's well-child visits and stay up-to-date with vaccines. This is especially important for children under 2 years of age and for children with special health care needs.

No insurance? You can still get your child vaccinated. The Vaccines for Children (VFC) program provides vaccines at no cost for children who are uninsured, underinsured, on Medicaid or Medicaid-eligible, and/or Alaskan Native/American Indian. There are more than 650 provider offices, community health centers, and local public health agencies that participate in the VFC Program in Missouri. Check your child's eligibility and find a VFC clinic near you.
No matter what school looks like this fall, children must still meet school vaccine requirements. More information about requirements.
Need access to your child's vaccination record? Contact your provider or local public health agency for a copy of your child's record. Or, you can contact the Missouri DHSS Bureau of Immunizations to request your child's record. Return the filled out request form to the Bureau of Immunizations.