Mpox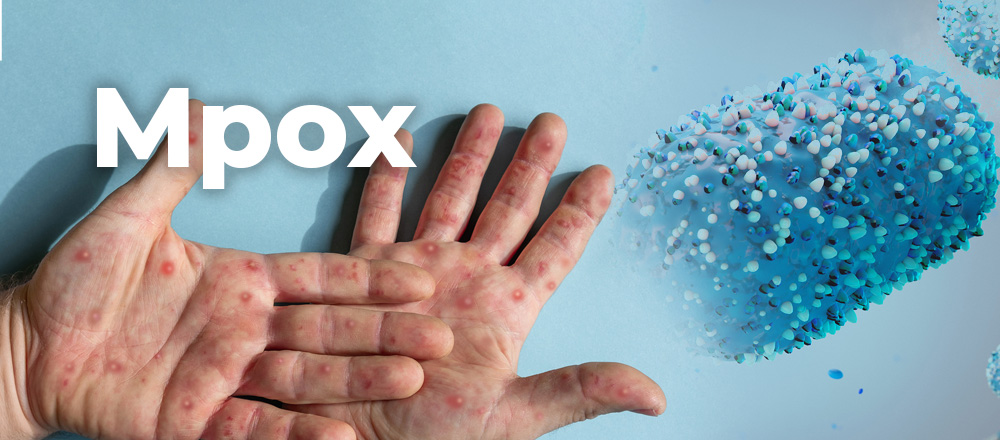 Mpox is a rare disease caused by the mpox virus. Overall risk to the public remains low. This virus does not spread as easily as others do, such as the virus that causes COVID-19.
Printable Resources
CDC Toolkits for:
What are the symptoms?
You may experience all or only a few of the symptoms of mpox. Mpox symptoms usually start within 3 weeks of exposure to the virus.
Most people with mpox will get a rash. Some people have developed a rash before (or without) flu-like symptoms.

The flu-like symptoms may include fever, headache, muscle aches and backache, sore throat, cough, swollen lymph nodes, chills, or exhaustion.

If someone has flu-like symptoms, they will usually develop a rash 1-4 days later.
The rash may be located on or near the genitals or anus but could also be on other areas like the hands, feet, chest, or face.

The rash will go through several stages, including scabs, before healing. The rash can look like pimples or blisters and may be painful or itchy. The rash may also be inside the body, including the mouth, vagina, or anus.

Mpox can be spread from the time symptoms start until the rash has healed, all scabs have fallen off, and a fresh layer of skin has formed. This can take several weeks.
How is mpox transmitted?
The mpox virus is most often spread through direct contact with a rash or sores of someone who has the virus. It can also spread through contact with clothing, bedding and other items used by a person with mpox, or from respiratory droplets that can be passed through prolonged face-to-face contact.
Transmission can happen during sex or other intimate activities, such as:
Oral, anal, and vaginal sex;
Hugging, kissing, cuddling and massage;
Coming in contact with bedding or other items that have the virus on them during or after intimate activity.
How can I get tested?
There is plenty of testing capacity. The Missouri State Public Health Laboratory and many commercial labs have testing capability, and more labs will have testing capability soon. Every healthcare provider should have a plan for getting their patients tested for mpox when they need it.
If you have symptoms of mpox, you should see a health care provider for testing. If you do not have a provider, call local public health agency. You should only get tested for mpox if you are experiencing symptoms.
What should I do if I have a new or unexplained rash (or other symptoms)?
Avoid sex or being intimate with anyone until you have been checked out by a health care provider. If you don't have a provider or health insurance, visit a public health clinic near you.
When you see a health care provider, wear a mask.
What should I do if I (or my partner) have mpox?
Avoid sex or being intimate with anyone until the rash has healed, scabs have fallen off and you have a fresh layer of skin.
Cover all sores with clothing or sealed bandages.
Avoid public gatherings, such as clubs, parties or gatherings until you have talked to a health care provider.
Wash your hands, sex toys and bedding before and after sex or other intimate activities.
Stay home and separate from other people in your household.
If you must leave home for essential needs or medical care, cover your rash and lesions with clothing and wear a face mask.
Do not share or let others touch your clothing, towels, bedding or utensils. Do not share a bed.
Do not share dishes, food, drink or utensils. Wash dishes with warm water and soap or in a dishwasher.
Wash your hands and clean shared surfaces, such as countertops and doorknobs, often.
Follow the treatment and prevention recommendations of your health care provider.
What can I do to protect myself?
Avoid close, skin-to-skin contact with people who have a rash that looks like mpox.
Do not touch the rash or scabs of a person with mpox.
Do not kiss, hug, cuddle or have sex with someone with mpox.
Do not share eating utensils or cups with a person with mpox.
Do not handle or touch the bedding, towels, or clothing of a person with mpox.
Wash your hands often with soap and water or use an alcohol-based hand sanitizer.
For gay, bisexual and other men who have sex with men, following activities put them at high risk for exposure:
Having sex or other intimate contact with multiple or anonymous people (such as those met through social media, dating apps, or at parties) increases your risk of exposures;
Clubs, raves, saunas, sex parties and other places with skin-to-skin or face-to-face contact with many people may also increase risk of exposure, especially if people are wearing less clothing.
Personnel who collect specimens should use personal protective equipment (PPE) in accordance with recommendations for health care settings.
Who should get vaccinated?
JYNNEOS vaccine is being allocated to states by our federal partners based on the rate of cases occurring in each state. Because vaccine availability is still limited, those at higher risk of exposure are being prioritized using CDC's vaccine use recommendations. Vaccination is an important tool in preventing the spread of mpox. Because it's not known how effective these vaccines will be in the current outbreak, people who are vaccinated are encouraged to continue to protect themselves from infection by avoiding close, skin-to-skin contact, including intimate contact, with someone who has mpox.
In the current outbreak, you may want to get vaccinated if:
You have been identified as a close contact of someone with mpox.
You learn that one of your sex partners in the past 2 weeks has been diagnosed with mpox.
In addition, you may want to get vaccinated if you are a man who has sex with other men or are a transgender or gender-diverse person who has sex with men and in the past 2 weeks:
You have had sex with multiple partners or group sex.
You have had sex at a commercial sex venue (like a sex club or bathhouse).
You have had sex at an event, venue, or in an area where mpox transmission is occurring.
Keep in mind that:
Getting vaccinated as soon as possible after exposure to someone with mpox (ideally within 4 days) provides the best chance to prevent the disease or make it less severe.
Currently, CDC is not encouraging vaccination against mpox for the broader public or for everyone who is sexually active.
While vaccine supplies are limited, getting a mpox vaccine when you don't need it could mean that people who do need it can't get it.
If you need help deciding whether you should get vaccinated, talk to a healthcare provider, or contact your local health department. They can help you determine if you should get vaccinated.
In addition to getting vaccinated, there are other things you can do to prevent mpox.
Contact your local public health agency if you feel you may be eligible.
Mpox Information for Missouri Health Professionals
Since May 14, 2022, clusters of mpox cases have been reported in several countries, including the United States, that do not normally have mpox.
If a health care provider suspects a mpox case, they should contact their local public health agency, or the DHSS Bureau of Communicable Disease Control and Prevention at 573-751-6113 or 800-392-0272, prior to specimen collection.