National Rural Health Day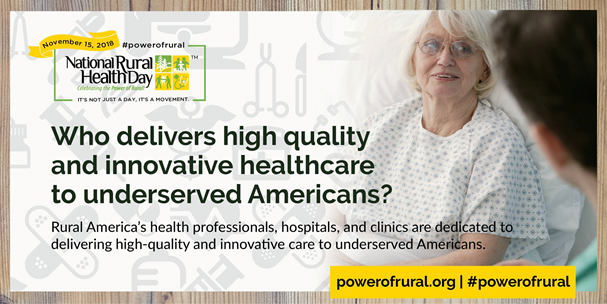 In celebration of National Rural Health Day on November15, 2018; hospitals around the State of Missouri are celebrating with their staff and in their communities by doing the following:
Pike County Memorial Hospital
Pike County Memorial Hospital is celebrating National Rural Health Day with the below activities throughout the week of November 12 - 16, 2018: 
Cookie trays were delivered to all departments in their hospital on Monday to show appreciation;
The hospital held a Flu and Pneumonia Vaccine Clinic on November 14, 2018
(so far this fall, they have had 4 clinics at their hospital as well as many others around the county);
Their Rural Health Clinic are collecting coats for kids the entire week of November 12 - 16, 2018;
Hospital staff will be wearing their Rural Health T-shirts on Friday;
Trivia games are being played, giving away prizes;
Messages have been sent out via Facebook and on Pike County Memorial Hospital's website;
The hospital will finish off the celebration by providing Thanksgiving dinner for all staff.
Iron County Medical Center
On National Rural Health Day, Athenahealth presented Iron County Medical Center with a check in the amount of $5000 for taking 3rd place in their What Does Your Community Hospital Mean to You? contest.
To view pictures of their National Rural Health Day celebration, click here.