Wellness Puzzle Challenge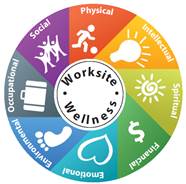 This is a sample challenge that a worksite may choose to implement. Please adjust for your facility as you see fit.
What is the Wellness Puzzle Challenge?
The Wellness Puzzle Challenge is a worksite wellness event designed to improve participants' overall wellbeing across eight (8) dimensions of wellness. It provides friendly competition as employees team up to complete activities to earn their team puzzle pieces to create the Wellness Wheel and learn about the 8 dimensions of wellness. During this eight-week event, participants choose activities that best fit their lifestyle and personal goals. All employees are encouraged to participate.
Teams
This is a team challenge that encourages employees to support each other in completing activities. There is no limit to the number of participants allowed on each team. Each team will select a captain who is responsible for registering their team and reporting to the Worksite Wellness Committee (WWC) each week.
How it Works
There are eight (8) puzzle pieces-one assigned to each wellness dimension. All teams will start with piece number one (1) - physical. Each team member will complete at least one (1) suggested activity in order for the team to earn that puzzle piece. Teams will receive the piece via e-mail from the WWC and can then begin on activities to earn the next piece. Teams may not work ahead of the assigned puzzle piece of the week.

For example: Team A has four (4) members. The activities for piece number one (1) include participating in a Walking Wednesday and attending a fitness class or workout. Each member completes one activity in order for the team to earn that piece. They would then repeat the process for each dimension until they have received all eight (8) pieces. Each dimension has an "other" option so participants can modify the activities if needed. These activities do not have to be done at work - nor do they have to be done with a team member.

The goal of the challenge is to complete the activities and earn one puzzle piece within one week. However, should a team member not be able to complete an activity during the week they may complete it in the following week. The team would not earn their puzzle piece until all members have completed an activity. Captains will be responsible for reporting the activities for their team members each week (or once all members have completed an activity and the team has earned their piece).
Coordinator Notes
First steps to implementing this wellness activity are to choose a coordinator that will run the campaign. He or she will advertise, register, and approve team scores and disperse puzzle pieces. Choose an 8-week time frame to advertise this challenge. The coordinator may wish to share information about each wellness dimension and strategies to increase satisfaction within those dimensions throughout the challenge via email messages. Consider offering each team who completes the puzzle to be entered into a drawing for a prize(s).
Puzzle Pieces
Below you will find each separated piece for creating the puzzle (click "fit picture to frame" before printing).