Nutrition during Pregnancy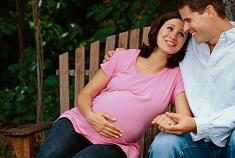 A healthy baby starts with healthy food. When you are pregnant, everything you eat or drink helps your baby grow, too. That's why it's important to eat healthy foods. You are also being a role model for your baby's eating habits during childhood and beyond. Filling your diet with delicious fruits and vegetables, whole grains, beans, lean protein, and other wise food choices before and during pregnancy will give your baby a strong start in life.

Some nutrients such as calcium and folic acid are especially important for mom and baby during pregnancy. Taking folic acid before getting pregnant lowers the risk of neural tube defects, which are among the most common and severe birth defects. Leave room for healthy foods that will help you meet your needs for these nutrients by avoiding foods with too many calories, and too much fat, sugar, and sodium.

The Department of Health and Senior Services has gathered these web links to provide information about proper nutrition and food assistance to help you eat a healthy diet during pregnancy.

Women, Infants and Children (WIC) is a special supplemental nutrition program which provides services to pregnant women, new mothers, infants and children up to their fifth birthday based on nutritional risk and income eligibility. The primary services provided are health screening, risk assessment, nutrition education and counseling, breastfeeding promotion and referrals to health care. Supplemental food is provided at no cost to participants.

Past experience shows that pregnant women who participate in the WIC Program have fewer low birth weight babies, experience fewer infant deaths, see the doctor earlier in pregnancy and eat healthier.

SNAP is a nutrition assistance program that helps income-eligible people buy nutritious foods needed for good health.