National Employee Health & Fitness Day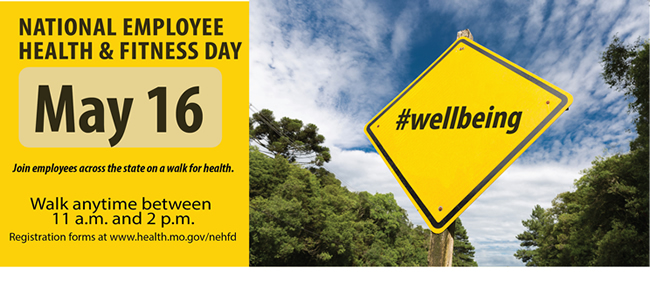 The National Association for Health and Fitness reports that regular physical activity makes workers more productive, reduces illness, injuries and absenteeism and lowers health care costs. Workers who are physically active have increased stamina, lower stress levels, improved physical fitness and a greater sense of well-being.
To highlight the importance of a healthy workforce, the Missouri Department of Health and Senior Services will commemorate National Employee Health & Fitness Day on WEDNESDAY, May 16. During this annual event, DHSS employees are presented with opportunities to participate in a number of wellness activities, including a department-wide walk.
Walk anytime between 11 a.m. and 2 p.m. to qualify for prizes.
Select one of the following fliers for a walking map and registration form:
In Jefferson City:
Downtown Routes:
Interested in planning a National Employee Health & Fitness Day event for your employer? View these resources for best practices to ensure a successful experience for participating employees.