Missouri Culinary Skills Institute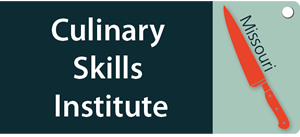 The nearly 94 million school lunches served yearly in Missouri schools present 94 million opportunities to build healthy, lifelong eating habits and support our students' well-being. Healthy students learn better and achieve more and Missouri school meal programs are a part of that process.
The Missouri Culinary Skills Institute's mission is to support nutrition environments in schools by advancing the culinary skills and abilities of food service staff. The Institute sponsors the Healthy Cuisine for Kids Program offering hands-on culinary lab experiences, practicing healthy cooking methods and preparing healthy kid-tested recipes. The institute is a partnership between the Department of Health and Senior Services, the Department of Elementary and Secondary Education and the Missouri Chapter of the School Nutrition Association.
Culinary Skills Institute Testimonials/Comments
"All of the booklets/brochures are full of info. Knife sharpening demo was great. It's all very, very useful information."
– Site-level manager/foodservice assistant.
"The new recipes to incorporate legumes and use fresh produce and herbs (for flavoring) in my school were most helpful. A lot of good ideas were discussed that were very helpful to market our food service department."
– Site-level manager
"I would recommend this for other employees of school districts that they attend something like this. Very informative. Thanks for sharing this with us."
– Site-level manager
"I learned how to prep the pasta and pan it to keep it from going mushy."
– Site-level manager
"I love all of the resources they made available for us. Lots of helpful info. I would definitely recommend this to others."
– Site-level manager/foodservice assistant
"Having a way to make sure employees use mise en place is very important. So is attitude - act like every day is your birthday. It is important to perfect team work and follow the 3 P's Principle - Positive Peer Pressure."
– Site-level manager
"The whole entire staff was very informative and very knowledgeable on their topics. It was a pleasure to be chosen to attend. Maybe next time it should be longer to spread out all the info :) "
– Site-level manager
"I liked cooking whole grain products and learning creative ways to make food more appealing to students. Interacting with other schools and learning how they handle different issues and problems is important also."
– Site-level manager
"I found that all of the information was very useful. It was great hearing how other school districts do things."
– Site-level manager
Resources
Missouri's Fruits and Vegetables Harvest Calendar (24" w x 36" h poster)
Schools participating in the National School Lunch Program are welcomed to place their order for this colorful calendar promoting Missouri's bountiful and seasonal harvest.
To place an order, please download the request for literature form and follow written instructions found within the form. Stock #285. Limit 10 per order.