Missouri Culinary Skills Institute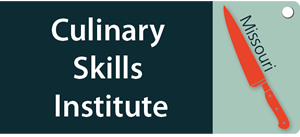 The nearly 94 million school lunches served yearly in Missouri schools present 94 million opportunities to build healthy, lifelong eating habits and support our students' well-being. Healthy students learn better and achieve more and Missouri school meal programs are a part of that process.
The Missouri Culinary Skills Institute's mission is to support nutrition environments in schools by advancing the culinary skills and abilities of food service staff. The Institute sponsors the Healthy Cuisine for Kids Program offering hands-on culinary lab experiences, practicing healthy cooking methods and preparing healthy kid-tested recipes. The institute is a partnership between the Department of Health and Senior Services, the Department of Elementary and Secondary Education and the Missouri Chapter of the School Nutrition Association.
Testimonials/Comments
Resources
Missouri's Fruits and Vegetables Harvest Calendar (24" w x 36" h poster)
Schools participating in the National School Lunch Program are welcomed to place their order for this colorful calendar promoting Missouri's bountiful and seasonal harvest.
To place an order, please download the request for literature form and follow written instructions found within the form. Stock #285. Limit 10 per order.