Mobile Services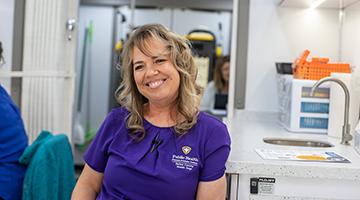 Mobile Services
Limiting barriers to health care access
Impact: regional
Mobile Public Health Services
The Saline County Health Department takes public health on the road to care for nearly 24,000 residents in rural Missouri.
Every mother wants the best for their children no matter where they live. In rural Missouri, transportation and the driving distance to basic needs, like grocery stores or health care, can be a tremendous barrier. During COVID-19, one local health department stepped up to address that barrier by using federal funds to purchase a mobile trailer to bring Missouri WIC nursing staff and services directly to mothers, fathers, guardians and children in need.
At the Saline County Health Department, a 14-member team is responsible for serving more than 23,000 residents across a 767-square mile territory. The department is led by lifelong Saline County resident Administrator Tara Brewer.
"This is rural public health at its finest," said Brewer. "Being in a rural community, we genuinely know our people. That's huge to be able to say that you know your people, you love your people and you're concerned about your people."
This spring, Saline County Health Department was the first health department to offer mobile WIC services in the state of Missouri, following approval from the U.S. Department of Agriculture. Those mobile services include health checkups for infants and children, breastfeeding support, and updates or additions to monthly eWIC benefits. Services are available monthly in Slater and Sweet Springs, in addition to regular clinic hours in Marshall.

The bus and equipment were originally purchased with federal funds from a grant created to address health disparities related to COVID-19. SCHD received approval for the purchase based on their willingness and unique ability to increase access to health department services in their rural community.
"Prior clinics meant we had to establish a medically-safe pop-up clinic in other buildings," said Brewer. "It was pretty easy for me to think at the time that we needed to get on the road."
Through COVID-19, the team was able to use the van to cater to the needs of their residents by offering health check-ups, childhood and adult vaccines and more.
"Now this mobile clinic is our home and we are comfortable," said Brewer. "This is an opportunity to extend services in a one-on-one basis with individuals around the county. Having the opportunity to bring people in to our bus and come into our environment to receive services in a little bit more of a private setting was a big deal for a lot of people."
Brewer said it was exciting to see how much opportunity the new bus provided, especially for those with demanding work schedules, tight budgets and other limitations. Health disparities can mean simply having access to medical care needed and travel can be one of the biggest barriers in Saline County, according to Brewer.
"It's so much easier for parents to not have to travel with kids," Brewer said. "It saves them time and money. With inflation, the cost of living has gone up so much and this gives us an opportunity serve them on a more local basis."  
The SCHD believes this new way of accessing public health services will also benefit the most vulnerable residents of Saline County, especially the elderly.
"Once we get established with the WIC side of things, we are opening up on the health department side," said Brewer. "We'll be able to do labs, blood pressure checks, nurse consultations and adult vaccines."
Brewer said that the pandemic improved community partnerships with Fitzgibbon Hospital, Missouri Valley College and businesses in the area. Together, they responded to the pandemic, vaccinated hundreds of people in a single day to curb serious illnesses, and began preparing for future emergencies. 
"If we were to have pandemic again, we are now forward thinking," said Brewer. "Our goal is to serve our community the best we can. We are taking advantage of opportunities, like this bus, now to make services easier in the event of a future emergency."