Minutes Matter. Call 911.
Missouri's Time Critical Diagnosis System
Getting help and getting it fast is key to surviving a major medical emergency, such as a trauma with serious injury, a stroke or a heart attack.
Missouri has a new statewide emergency medical care response system to provide a quicker response and higher quality care when a time critical emergency happens.
The Time Critical Diagnosis System brings together the 911 response system, ambulance services and hospitals in a new, more integrated and coordinated approach to help a greater number of people survive and recover from trauma, stroke and heart attack.
The new system continues to designate hospitals as trauma centers and also designates hospitals as stroke and heart attack centers that have specially trained staff available 24 hours a day to treat these medical emergencies.
Minutes make a difference
Severe injury requires timely definitive care for the best outcomes for survival and recovery. Likewise, stroke and STEMI heart attack victims who receive treatment within specific time frames from the time their symptoms begin are more likely to recover and less likely to have permanent disabilities. Currently, only a small percentage of stroke patients and less than half of heart attack patients in Missouri get help within the recommended amount of time.
Learn how to spot the symptoms of a serious injury or heart attack and stroke so you can be prepared to call for help quickly and get the medical attention you need.
When an emergency happens, minutes matter. Call 911.
Where are the TCD-designated hospitals?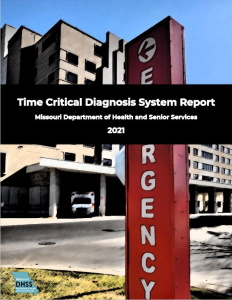 Next TCD Advisory Committee Meeting

August 16, 2023 - 3 - 4:30 p.m.