Missouri Small Rural Hospital Improvement Program (SHIP)
National Rural Health Resource Center: The Small Rural Hospital Improvement Grant Program (SHIP)
The Small Rural Hospital Improvement Grant Program administered by the Department of Health and Senior Services (DHSS) is supported by the U.S. Department of Health and Human Services, Health Resources and Services Administration's (HRSA) Federal Office of Rural Health Policy (FORHP). Section 1820(g)(3) of the Social Security Act (SSA) authorizes SHIP to assist eligible hospitals in meeting the costs of implementing data system requirements established under the Medicare Program, including using funds to assist hospitals in participating in improvements in value and quality to health care such as:
Eligible small rural hospitals are located in the United States and its territories and include hospitals with 49 available beds or less. These small rural, non-federal hospitals provide short-term, general acute care to their communities. They may be for-profit, not-for-profit, or tribal organizations. Critical access hospitals are also eligible for the SHIP.
Missouri SHIP Grant
The DHSS, Office of Rural Health and Primary Care (ORHPC) administers the SHIP grant, which runs from June 1 – May 31 each year. The number of eligible and participating hospitals may vary on an annual basis. The current SHIP grant is on a 4 year cycle, beginning in FY23.
SHIP Fiscal Years
Total Eligible
Hospitals
Eligible CAHs
Total Participating
Hospitals
FY20: June 1, 2020- May 31, 2021
49
35
43
FY21: June 1, 2021- May 31, 2022
48
35
43
FY22: June 1, 2022- May 31, 2023
48
35
43
FY23: June 1, 2022- May 31, 2024
49
35
41
Annually, participating hospitals select eligible investment activities from three investment categories. The below chart shows hospital selections for the current grant year, FY23.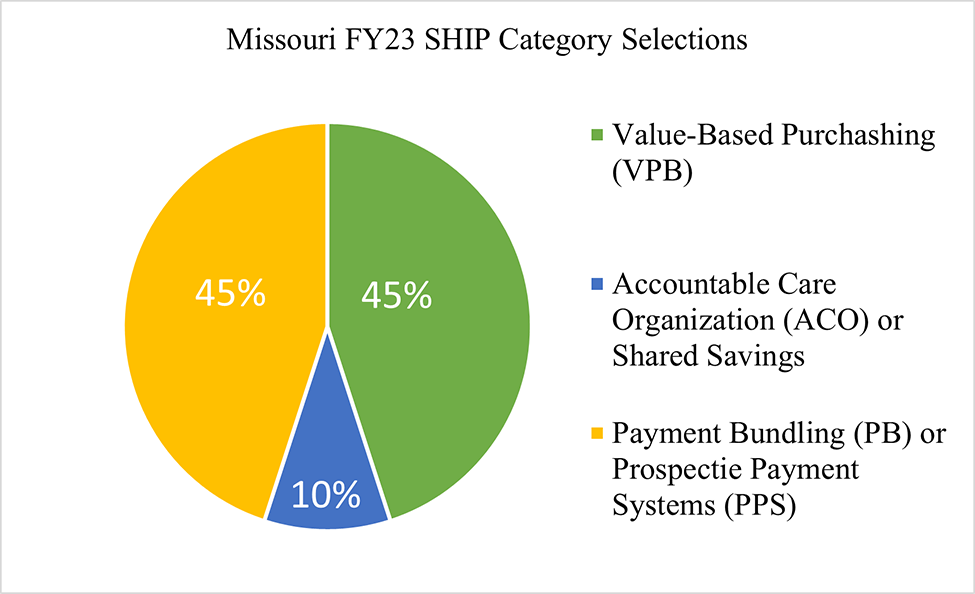 Participating hospitals are required to submit activity progress reports and invoices to ORHPC on a quarterly basis.
SHIP Hospital Reporting and Invoicing Schedule
Start
End
Report Due
Invoice Due
Q1
June 1
August 31
September 10
September 10
Q2
September 1
November 30
December 10
December 10
Q3
December 1
February 28
March 10
March 10
Q4
March 1
May 31
June 10
June 10
Annual Financial Report
June 10
MO SHIP Resources