Suicide Prevention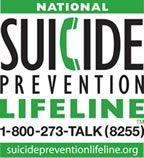 If you came to this site because you or someone you know are having suicidal thoughts or feelings.
Please call:
1-800-SUICIDE (1-800-784-2433) to reach the National Hope Line.  Services are available 24 hours a day, 7 days a week.
National Suicide Prevention Lifeline 1-800-273-8255 (Talk). 
The toll-free Access Crisis Intervention (ACI) Hotline for your region.  The Behavioral Health Crisis Hotline is staffed by mental health professionals who can respond to your crisis 24 hours per day and 7 days per week. They will talk with you about your crisis and help you determine what further help is needed.
Or text:
The Crisis Text Line, Text HOME to 741741.
Crisis Text Line serves anyone, in any type of crisis, providing access to free, 24 hours per day and 7 days a week support and information.
Suicide in Missouri:
Over 1,000 Missourians died by suicide in 2016.*
On average, 1 person dies by suicide every 7 hours in Missouri. 
Suicide is the 10th leading cause of death in Missouri and nationally.

2nd leading cause of death among 10-34 years-old
4th leading cause of death among 35-54 years-old

2nd leading cause of death in Missouri among youth/young adults ages 10-24 in 2016.

Among this age group, suicide is highest among 20-24 years olds.

Suicide rates have increased by over 30% since 1999.
Leading methods of suicide: firearms, suffocation and poisoning
*(Source: Missouri Department of Mental Health)
Missouri Resources
National Resources