Newborn Hearing Screening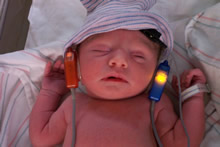 Effective January 1, 2002, state law mandates screening the hearing of all infants born in Missouri. The Missouri Newborn Hearing Screening Program provides support to facilities and professionals who undertake the pediatric care of newborns in an effort to identify hearing loss, collects information about hearing screenings in order to provide figures for program planning and evaluation and assists families in getting the services they may need. The following pages will provide information and answer questions you may have about testing for hearing loss in infants.
The purpose of Missouri's Newborn Hearing Screening Program is to identify infants with hearing loss and link them with early intervention services by six months of age. It is important to detect a hearing loss in the earliest days of a baby's life. A baby begins to understand language and speech at birth. Your baby needs to hear in order to develop speech and language skills. Early identification and treatment of hearing loss are essential so that speech, language, communication and learning can develop as typically as possibly.
In the hospital or clinic where your child was born, a quick, painless, screening test was performed. There are two types of screening methods:
The Otoacoustic Emission (OAE): In this type, a tiny earplug is inserted into the ear. The earplug sends soft sounds into the ear and a computer reads the echo that is returned from the baby's ear.
The Auditory Brainstem Response (ABR): In this instance, small headphones are placed over your baby's ears. The headphones send soft clicking sounds into your baby's ears. Small sensors are placed on the head, neck and shoulder to measure your baby's response to the noise.
If your baby does not pass the hearing screening, you will be referred to a pediatric audiologist for diagnostic testing. The audiologist will use equipment designed to accurately determine your baby's ability to hear sounds. Harmless to your baby, this testing is much more in depth than the initial screening.
If your baby is diagnosed with a hearing loss, a MOHear service coordinator from the Newborn Hearing Screening Program may contact you about follow-up services. Your baby's doctor and audiologist can also assist you in obtaining appropriate connections for your baby. If you are planning a home birth, be sure to speak with your midwife or your doctor to find where you can have your baby's hearing screened.
The Department of Health and Senior Services carries out this program via a program manager, two follow-up coordinators, a data management coordinator, an information systems manager and five MOHear service coordinators. The follow-up coordinators are responsible for follow-up of infants who did not have an initial hearing screen, did not receive a pass result on the initial hearing screen, or who are found to be at risk for later development of hearing loss. MOHears provides specialized service coordination to help you find effective, early intervention services that will enhance your child's communication, thinking and behavioral skills needed to achieve academic and social success.